Analysis: Explaining the charter system and why NASCAR needs it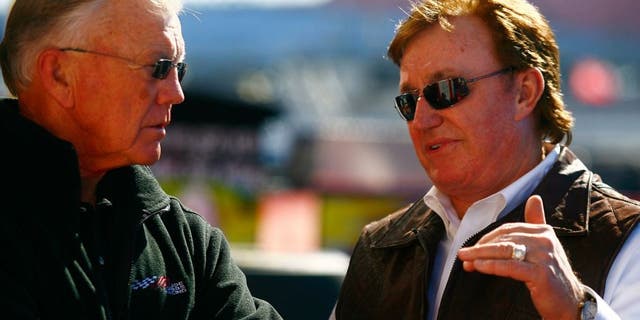 NEWYou can now listen to Fox News articles!
So what exactly is a charter system and why is one needed in NASCAR?
NASCAR officials will formally reveal their new charter system during a Tuesday press conference at the Charlotte Convention Center at 1:30 p.m. ET. Neither NASCAR officials nor the Sprint Cup team owners have disclosed many details about the particulars about what they will announce.
That said, the charter system is expected to be somewhat similar to the medallion system used by taxicabs in New York and many other large cities. To operate a cab in New York, taxi owners have to purchase a medallion that entitles them to do business in the city. Medallions can be sold privately, so if a cab driver wants to retire, he or she can sell that medallion to a new operator.
And New York restricts the total number of medallions, which now is 13,347. At one point, medallions sold on the private market for as much as $1.32 million, although with the arrival of Uber, medallion prices have fallen roughly in half in the last three years.
At any rate, it is expected NASCAR will have a fixed number of charters for Sprint Cup teams -- 36 is the most common number to be rumored. Each of the 36 charter holders will be guaranteed starting spots in every race. Sprint Cup fields will be cut down from 43 to 40 cars per race, with the final four slots open to non-charter cars.
Why do the team owners want to have a charter?
First off, they can guarantee their sponsors that they will compete in every race.
Secondly, it gives them something of value they can sell.
Right now, if a race team loses its major sponsors, it typically goes out of business. And when it does, the only value it has is its race shop -- assuming the team owns the shop instead of renting it -- and the leftover cars, tools and parts, which it is lucky if it can sell for 20 cents on the dollar.
Having a charter the team owner can sell would ease the financial burden substantially.
In 2007-08, the last time the U.S. economy had a major crash, several of the sport's biggest and highest-profile owners closed up shop or merged -- Petty Enterprises, Dale Earnhardt Inc., Robert Yates Racing and MB2 Motorsports were among the teams that didn't survive.
From NASCAR's point of view, a charter system would help attract new owners, something that hopefully will keep the sport thriving. Joe Gibbs, Roger Penske, Jack Roush and Richard Childress are all in their 70s, and Rick Hendrick is in his 60s. The only new owner to come in during the past decade and win a championship is Tony Stewart.
So the charter system has a chance to be win-win for both the owners and the sanctioning body, while being transparent to the fans watching racing at home or on TV, but the business model will be more stable and sustainable. And in an ideal world, a more level playing field across the board, with improved competition.