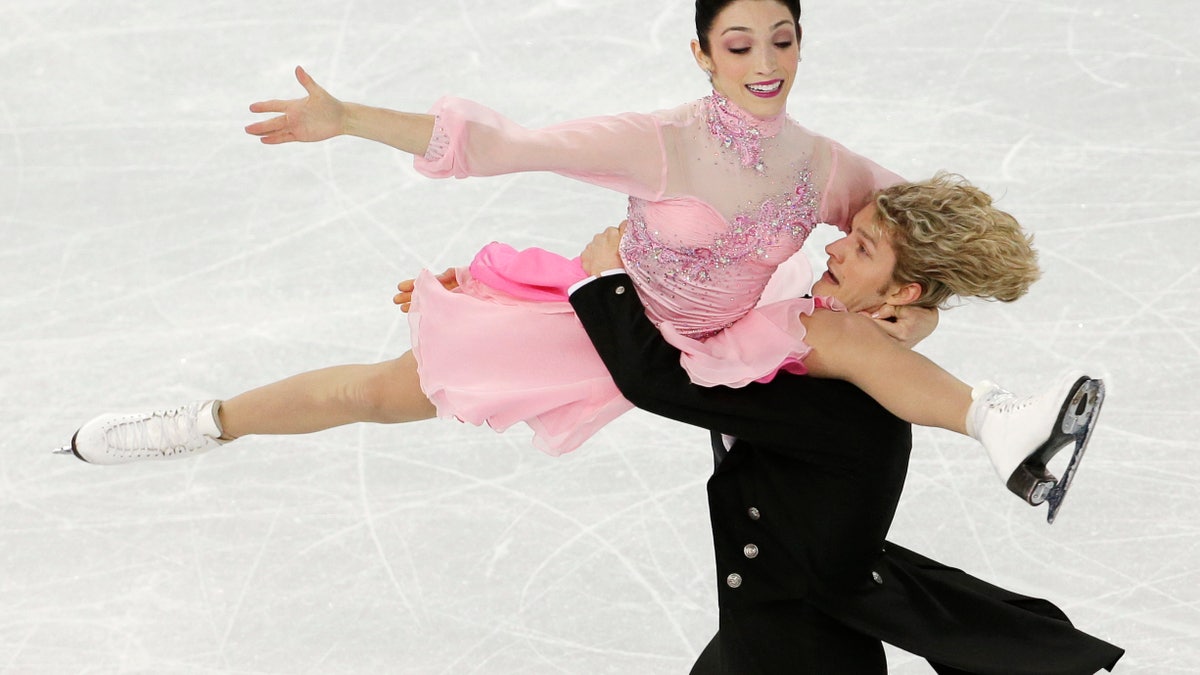 SOCHI, Russia – The United States got a huge lift, along with some dazzling footwork and spins, from its world champion ice dancers Saturday night.
Needing a big performance from Meryl Davis and Charlie White to get back into medals contention in the new team event at the Sochi Olympics, the Americans can breathe easier. Marlie, as the 2010 silver medalists are affectionately dubbed, quickstepped to the rescue.
"We don't feel like we're trying to carry any sort of burden or load," White said. "We're counting on the whole team to pull through together and I think that's what makes us such a strong team."
Host Russia still led the team competition heading into the women's short program that would determine which five nations will advance to the free skate portion of the event. The Russians had 27 points, one more than Canada, while the Americans surged to third place with 20 points.
Defending ice dance champions Tessa Virtue and Scott Moir of Canada were second even though she bobbled during their early set of twizzles, hurting the couple's synchronicity. They still received 72.98 points, exactly three points below Davis and White.
"I think I might have lost a little bit of speed after the first (twizzle)," Virtue said. "It wasn't a mental lapse."
Russia's Ekaterina Bobrova and Dmitiri Soloviev were third, responding to chants of "RUS-SI-A, RUS-SI-A" that echoed throughout the Iceberg with a solid skate.
But Davis, of West Bloomfield, Mich., and White (Bloomfield Hills, Mich.) unquestionably deserved the top spot.
Their twizzles -- multi-rotational one-foot turns -- were so precise it seemed they were one skater. Their concluding rotational lift to music from "My Fair Lady" was spot-on.
"Everything hasn't been 100 percent perfect," Davis said before she and White headed back into the arena to root on Ashley Wagner in the women's short program. "But that's part of what a team is, is being there for each other. We have a really great standard."
Virtue and Moir, who train with Marlie in Canton, Mich., sat in the kiss and cry area for a short time watching their friends and biggest competition before heading back to the interview area. They seemed to know second place would be their spot this night.
"We're probably not in the best position," Moir said of the gold medal chase. "We were really hoping to give Team Canada a boost and edge the Americans. There's still tomorrow."
The pairs free skate, featuring those top five nations in the standings, were to follow the women. The team event ends Sunday night.