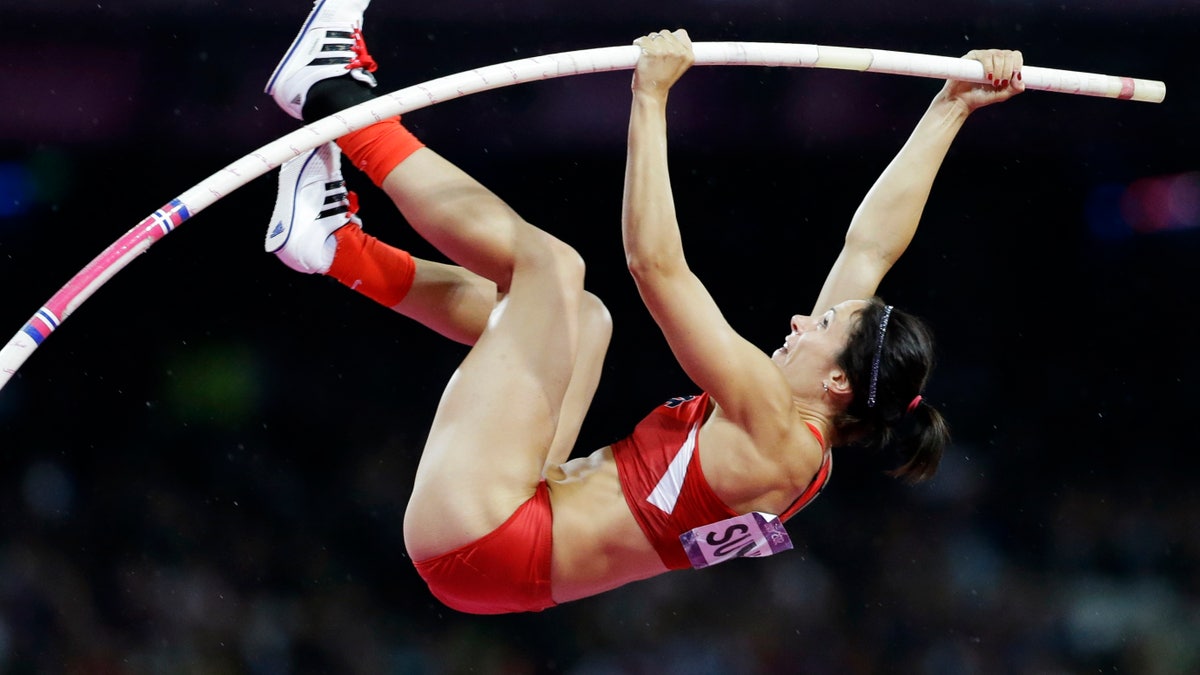 LONDON – Yelena Isinbayeva finally lost an Olympic pole vault final and left the London Games with a bronze medal, unable to master the fickle British weather and beat the winning performance of American Jenn Suhr.
Isinbayeva was seeking to become the first woman to win gold medals in the same individual event at three successive Olympics. She left, not with tears, but with sighs of relief, blowing kisses to the 80,000 crowd as if a weight had finally fallen from her shoulders.
Suhr remained flawless until 4.75 meters, which she cleared on her second attempt, and then beat Cuba's Yarisley Silva on a countback. Isinbayeva had 4.70, 36 centimeters short of her world record.
While a veteran bowed out with bronze in the field, teenager Kirani James of Grenada stormed to victory in the 400 meters. The 19-year-old became the first non-U.S. runner to post a sub-44 second 400 as he added the Olympic title to his world championship gold. He also was the first non-U.S. winner of the race since 1980.
In the 400-meter hurdles, Felix Sanchez of the Dominican Republic came back eight years later to claim a second Olympic gold, which left him sobbing uncontrollably on the victory podium.
What Russia missed in the pole vault, it made up for when Yuliya Zaripova won the 3,000-meter steeplechase in the fourth-fastest time in history.
Yet it was Isinbayeva who hogged the attention for most of a cold summer's night when vaulters were awaiting their turn in duffel blankets and had to count to their coaches to get the wind direction.
Isinbayeva waited late to come into the competition and her opening miss kept her on the defensive for the whole evening.
Instead Suhr, who was runner up to the Russian four years ago, stayed perfect until her winning height, spurred on by another noisy capacity crowd at the Olympic Stadium.
"The atmosphere is electric because they bring you alive," Suhr said. "When I warmed up I felt a little dead, but I fed off them."
It was not enough to let Isinbayeva make history. For a woman who craved titles and world record, she was unexpectedly excited by a mere bronze medal.
"It is like a gold medal for me," Isinbayeva said. "It has been a lot of things in the past which have been disappointing for three years," she said as she lost her world outdoor and indoor titles before fighting back this season.
And she immediately countered suspicions she would retire if she had lost the title. "This bronze tells me 'Elena, don't quit,' as I planned to quit after London."
"I am just glad the Olympics are finished as it was so stressful," Isinbayeva said.
For Italy's Alex Schwazer they didn't even start, because the 50K race walk Olympic champion was thrown out of the games after he failed a doping control in Italy.
CONI President Gianni Petrucci said Schwazer had admitted doping on what was a "bitter day" for Italian sports.
The clash for golden sprint double is still on after both 100-meter Olympic champion Shelly-Ann Fraser-Pryce and 400 gold-medalist Sanya Richards-Ross advanced to the semifinals of the 200.
The challenge of Veronica Campbell-Brown to win her third straight 200 Olympic title seemed to be stuttering, with the Jamaican advancing only third from her heat on Monday night.
Running with red leggings and arms covered, Richards-Ross had the top qualifying time with 22.48 seconds. Allyson Felix also advanced as heat winner in her favorite event, setting up another high-powered U.S.-Jamaica clash on Tuesday.
Richards-Ross said she was still on a high after winning her favored 400 on Sunday evening.
"I couldn't get to sleep. I was so excited," Richards-Ross said. "I am going to give my best. The 200 is a fun event, so we will see what I have got."
Campbell-Brown was not all that worried about her slow showing.
"The objective is always to advance to the next round," she said. "The aim is to get to the final and run as best as I can there."
In the shot put, 2008 Olympic champion and reigning world outdoor and indoor and Commonwealth champion Valerie Adams failed to defend her title, as Nadzeya Ostapchuk of Belarus ended her long winning streak. The 31-year-old Ostapchuk, world champion in 2005, had a mark of 21.36 meters, while Adams settled for silver with 20.70.