Ameer Abdullah feeling the heat after another fumble vs. Bears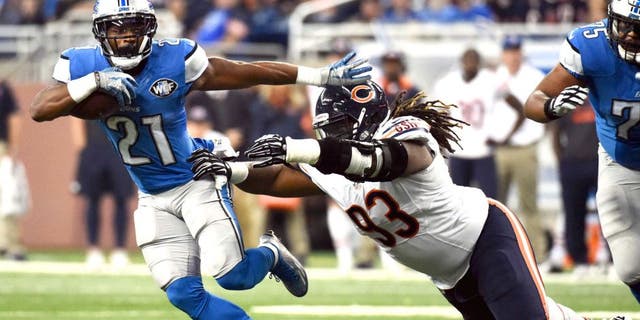 NEWYou can now listen to Fox News articles!
Lions RB Ameer Abdullah has fumbled four times this season. Tim Fuller USA TODAY Sports
Detroit Lions running back Ameer Abdullah officially has a fumbling problem. After coughing the ball up twice against the Arizona Cardinals in Week 5, Abdullah fumbled again versus the Chicago Bears on Sunday.
The Lions overcame Abdullah's mistake to top the Bears, 37-34, in overtime. After the game, Detroit's rookie running back wore the blame for his mistake, as he refused to make an excuse.
"No, it was all on me," Abdullah said, per Justin Rogers of MLive.com. "The guy came up to me quick, I've got to be ready to adjust at any time. Shoot, it's just like the same story. I've got to look in the mirror and I've got to get this right."
Abdullah spent a lot of time on the sideline after his fumble, but Lions head coach Jim Caldwell insists that was due to an injury, according to MLive.com.
Regardless, the Lions cannot trust Abdullah until he improves his ball security. They want to get him more touches, but not if he's just going to give away possession to the other team.
So far this season, Abdullah has 67 offensive touches and four fumbles. That's one fumble every 16.75 times he touches the ball. With a rate like that, the rookie will have a tough time establishing himself as a reliable bell cow in this league.
MORE NEWS: Want stories delivered to you? Sign up for our NFL newsletters.