Amarista's catch, Smith's HR help Padres beat Twins 5-4 in 10 innings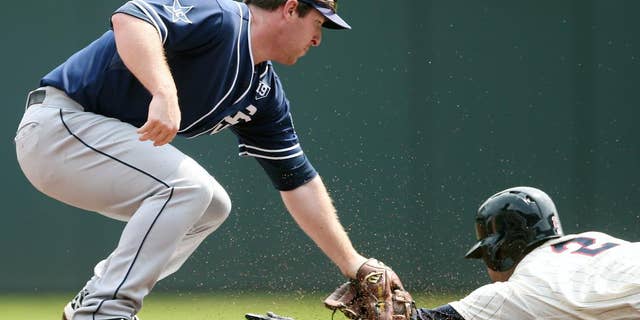 NEWYou can now listen to Fox News articles!
MINNEAPOLIS – Center fielder Alexi Amarista made a game-saving catch in the bottom of the ninth inning and Seth Smith followed with a solo homer in the 10th to lift the San Diego Padres to a 5-4 victory over the Minnesota Twins on Wednesday.
Amarista ran backward on a dead sprint and laid out for a brilliant diving catch of a drive off the bat of Eduardo Escobar to keep the game tied. Smith had two hits and two RBIs.
Joaquin Benoit picked up his fourth save and the Padres split the two-game series.
Trevor Plouffe had a homer and three RBIs for the Twins, but All-Star closer Glen Perkins blew his fourth save in 32 chances.
San Diego trailed 4-3 going into the ninth against Perkins. But Everth Cabrera tied the game with a sacrifice fly and Yonder Alonso added two doubles and a single for the Padres.