Amanda Nunes sends a message to Ronda Rousey ahead of UFC 207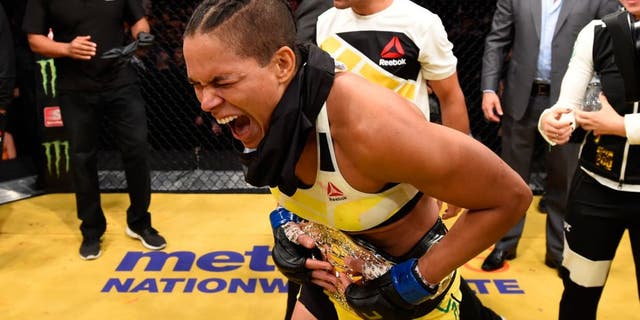 Amanda Nunes knows that fighting Ronda Rousey at UFC 207 is a life changing moment for her.
Nunes won the title with a submission victory over Miesha Tate at UFC 200, but despite the magnitude of that card, it still won't compare to what it will mean to fight Rousey in her return to the sport after a year long hiatus.
Rousey sits just behind Conor McGregor as the biggest draw in the sport and her return will undoubtedly draw a ton of attention at the box office and on pay-per-view. That means Nunes will also benefit from the financial windfall from Rousey's return, which equals a much bigger paycheck after Dec. 30.
Of course, Rousey providing a few extra zeroes for Nunes' bank account will be nice, but she still reminds the former bantamweight champion that she's the one stepping into the lion's den at UFC 207.
"My message to her is to say thank you, this fight's going to change my life, my career and I hope she's ready," Nunes told TMZ on Thursday. "I know she's a very tough opponent, but I'm the best in the world."
As soon as UFC president Dana White announced that Rousey would face Nunes at UFC 207, several fighters voiced rather loud opinions against the matchup being made. Most notably, Cris Cyborg and Julianna Pena both made objections to the fight, especially with Rousey getting a title shot after being knocked out in her last bout.
Nunes disagrees and feels that Rousey is the most deserving contender considering that she was the only women's bantamweight champion prior to losing to Holm and had defended the belt on multiple occasions.
"She only has one loss and all the UFC champions had rematches right away. I think Ronda Rousey, I think everybody wants to see (this fight) and Ronda Rousey deserves this fight again," Nunes said.
"I think it's wrong. Because she was the dominant athlete. I think she really deserves that."
As far as her own expectations for the fight, Nunes is very confident in the way she matches up with Rousey from her ability to come charging out of the gates with a fast start all the way to pitting her judo skills against the former Olympic bronze medalist.
"I know how I'm going to beat Ronda Rousey. I've been training for Ronda Rousey since my first fight in the UFC," Nunes said. "I don't know if you know, but I come from the same background as Ronda Rousey. I've been training judo my whole career, since I started jiu-jitsu. I understand everything Ronda Rousey's going to bring that day. I don't think she's going to be able to deal with my striking.
"She's going to be very surprised when I touch her, when I connect with my punches."
Despite being knocked out in her last fight, Rousey is still a favorite going into the fight with Nunes at UFC 207.
None of that matters to the women's bantamweight champion because she's been an underdog nearly off of her life and yet Nunes always seems to find a way to win. Facing off with Rousey will be no different.
"I like it. I always fight like that," Nunes said. "I've always been the one everybody thinks aren't going to win. I'm OK. I'm comfortable. This is going to be hard for Ronda because everybody expects her to win.
"I'm stronger than ever. I'm 100-percent that I'm going to beat Ronda Rousey -- I'm 200-percent."