Amanda Nunes ready for Ronda Rousey but won't talk trash like Bethe Correia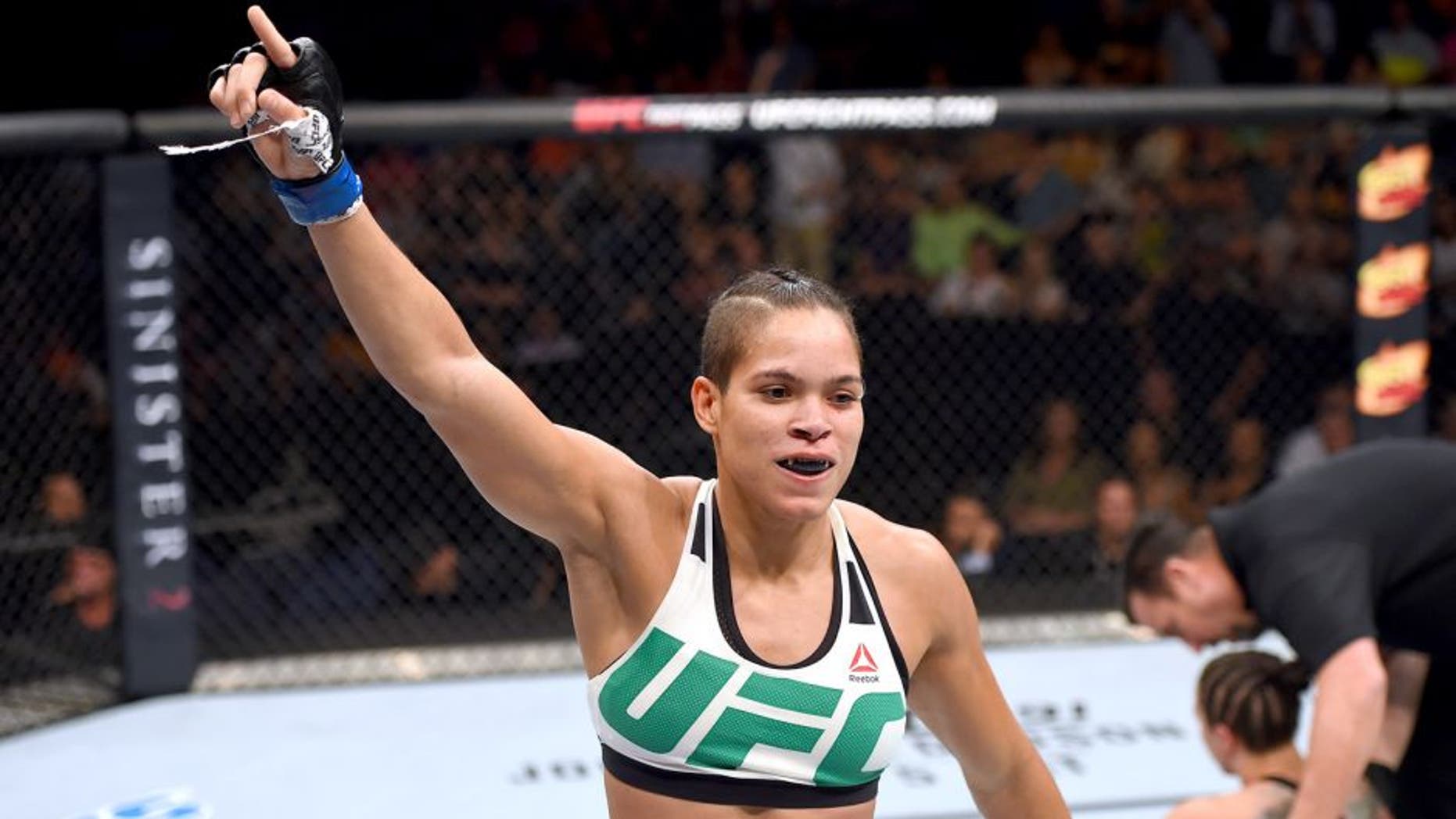 Just when it looked like UFC women's bantamweight champion Ronda Rousey was running out of opponents, a new challenger emerges after Amanda Nunes knocked down and then choked out former title contender Sara McMann on Saturday night in Nashville.
Nunes has been hovering around the top 10 at bantamweight for several years, but each time she got close to title contention, the bottom dropped out from under her. She had a ton of hype while she was in Strikeforce after knocking out Julia Budd in just 14 seconds, but then fell short in a fight against Alexis Davis in her debut at 135 pounds.
The same thing happened last year when Nunes was dismantling Cat Zingano for over a round before running out of gas and watching the win slip away from her once again.
So facing No. 4 ranked McMann was a third chance for Nunes to finally climb into the upper echelon of the rankings and she not only entered title discussion -- she may have jumped to the top of the list.
Nunes blasted McMann with a hard right hand just minutes into the first round, dropping the former Olympian to the mat with a dramatic thud. Nunes quickly pounded on her prey and sunk in a fight ending rear naked choke to become only the second fighter to ever finish McMann in her professional career -- the other person was Ronda Rousey.
With her latest win, Nunes will likely sit just one win away from a shot at Rousey and she can finally taste her true potential coming to pass.
"I'm close now. She has a fight coming up and if I have to fight one more fight, I'll take it. Whatever happens, I'm going to be ready," Nunes said at the UFC Fight Night post fight press conference about facing Rousey.
There's no doubt that Rousey has shown virtually no weaknesses during her 12 fights and 12 wins because only one of those have even made it out of the first round much less any opponent actually win an exchange with her. The former Olympic bronze medalist in judo has now developed into a knockout puncher, but Nunes says her own background could prove to be the foil that Rousey hasn't faced yet in her MMA career.
"I keep getting better and better. I have good striking and my background is in jiu-jitsu and I've been training judo my whole life, too. I think it's going to be a very good match because I have my background in judo and jiu-jitsu like Ronda," Nunes said. "Now she's better in striking and so it's going to be good."
The biggest thing Nunes wanted to do with her win on Saturday was put visual proof in Rousey's head that she belongs in the same cage with the gold on the line. While Rousey's last opponent Bethe Correia decided to trash talk her way into a title shot, Nunes would rather do it with performances -- like finishing a top five fighter in less than five minutes.
"I don't need to talk, I'm going to show," Nunes said. "I'm going to step in the cage and do my thing. I'm going to win more bonuses and knock people out. For sure, I'm going to have my title shot soon."
If it turns out that Rousey is unavailable, Nunes is happy to keep wiping out more top five competitors until she gets her title shot. As a matter of fact there are two potential opponents ahead of her in the rankings who she would love to see in the Octagon again.
"I'll take it. Cat (Zingano), Alexis Davis," Nunes said after dropping fights to them previously. "There's a lot of girls in the top five I'd take."