Amanda Nunes beats Valentina Shevchenko, calls for title shot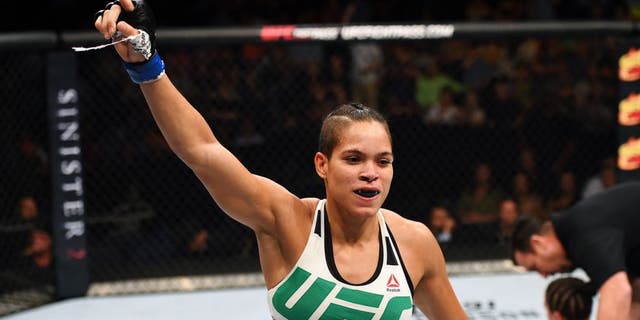 Amanda Nunes picked up her third win in a row with an impressive showing to take out noted Muay Thai striker Valentina Shevchenko after three hard fought rounds at UFC 196.
Nunes had to use everything in her arsenal to stave off a late comeback from Shevchenko, but ultimately she still got the job done.
It was a very tentative start for both fighters as Nunes and Shevchenko showed a lot of respect for potential power shots coming from the other.
Finally with less than a minute to go in the opening round, Nunes snatched a takedown and put Shevchenko on her back in an otherwise quiet five minutes.
The start of round two saw Shevchenko finally open up with a pair of kicks, but it ultimately cost her in the end as Nunes caught the leg and put her back down on the mat.
From there the Brazilian started to look for more advantageous positions as she blasted away with short elbow strikes from inside Shevchenko's half guard.
Nunes stayed relentless with punishing shots from the top as Shevchenko did her best to defend or get up from the bottom but to no avail. Instead, Nunes just applied even more pressure while opening a cut over Shevchenko's left eye that started dribbling blood onto the mat.
Nunes relentless attacks eventually transitioned into taking Shevchenko's back while fishing for the rear naked choke finish. It looked like Nunes nearly had her forearm under Shevchenko's chin, but she couldn't quite get the submission as the second round came to a close.
Shevchenko went into desperation mode in the final round while knowing she probably needed a finish to get the win. Shevchenko quickly took Nunes to the ground and started to land some good shots, but she couldn't hold the Brazilian down as they worked back to the feet.
It was clear that Nunes was running out of gas as the seconds ticked away, but Shevchenko just couldn't find an opening to land any big shot that could have led to a winning combination to put the American Top Team fighter away.
In the end, the judges scored the fight 29-27, 29-27, 29-28 in favor of Nunes, who squeaks out a hard fought victory to win her third in a row.
"Dana White! Dana White! Give me a title shot!" Nunes shouted following the win.
With Ronda Rousey expected to return later this year it's unlikely Nunes will get a shot at the gold after this latest win, but she's not likely far away following another impressive outing.