Alterraun Verner says Jameis Winston's practice INTs were by design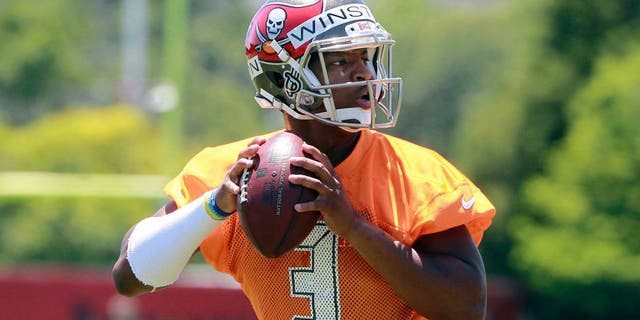 NEWYou can now listen to Fox News articles!
While we all heard the rave about quarterback Marcus Mariota not throwing any interceptions during training camp, while Jameis Winston struggled with picks, apparently there was much more to the story. As JoeBucsFan.com reports, cornerback Alterraun Verner recently spoke about the interceptions and said they were by design.
"The biggest thing I just think with [Jameis] is just his experience is allowing him to know what throws he can make and what throws he can't," Verner told JoeBucsFan.com. "That was one thing I looked at when he first came in. Maybe he was forcing some things. Maybe he was doing a little bit [too much]. But I don't think it was the fact that's what he was, I think he was just testing his limits. And to me, that's what you have to do in training camp. You shouldn't just be all the way comfortable in things. You should try new things, try things out and then iron it out when you get closer to the season."
Verner continued on:
"I think that's what you've been seeing with him. He would take some aggressive approaches and then now he's starting to get into a rhythm. And I think he's starting to realize what he can and can't do more and more every day. But that's him, just his work ethic and his film study."
That definitely makes things a whole lot more interesting. If Winston was indeed just "testing his limits" as Verner explains, then it's far more understandable when looking at the interceptions.
Winston's mindset here would actually make a lot of sense, especially if he believed it would help him out when the real action began. Only time will tell, but the 2015 regular season is nearly here, so keep your eyes peeled.
(h/t JoeBucsFan.com)