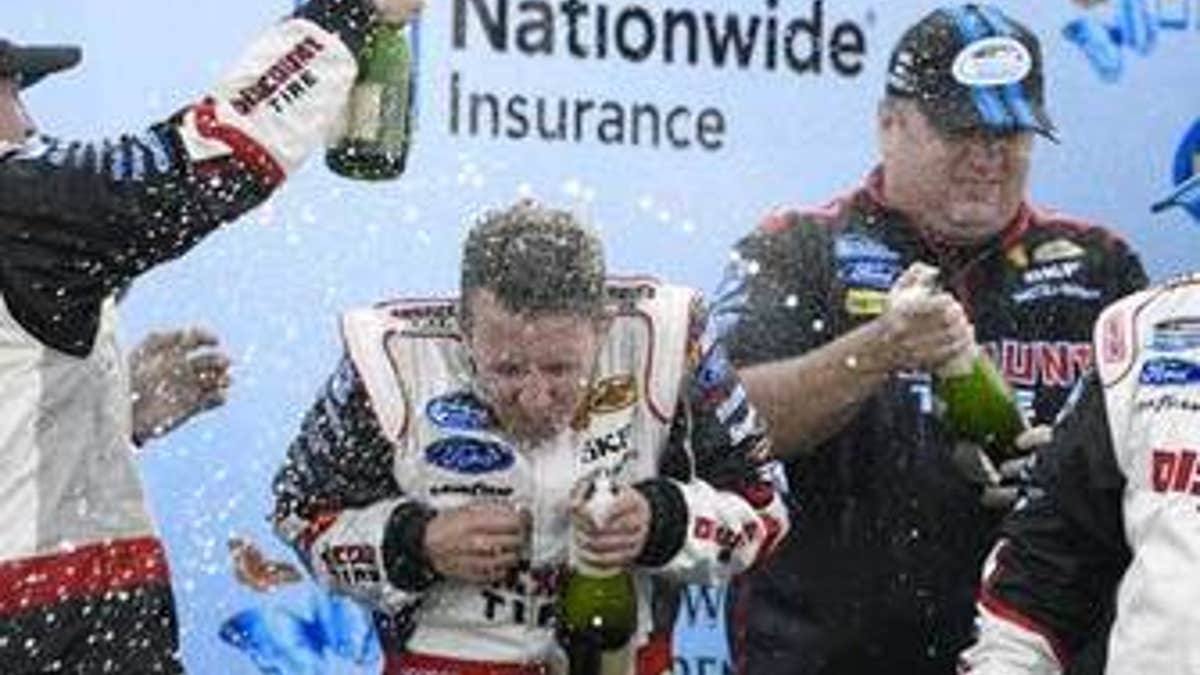 LEXINGTON, Ohio – AJ Allmendinger was so close he could almost envision coasting through his final lap and capturing the checkered flag.
Then, elsewhere on the course, a car spun out and the subsequent yellow flag meant the pack would have to restart behind the pace car in a two-lap sprint to the finish.
But after leading 73 of the 94 laps, he survived that last, late challenge to win the inaugural NASCAR Nationwide Series race at Mid-Ohio Sports Car Course.
"In a way, I feel like I'm playing with house money because I never expected to be back here at this level," said Allmendinger, making another major step back after his suspension a year ago for failing a random drug test. "I'm just taking it all in and having fun with it."
Allmendinger improved his record to 2 for 2 this year in the Nationwide Series, adding a victory to the one he picked up for Penske Racing in his only previous start at Road America.
He credited his crew, his sponsors and particularly team owner Roger Penske, who stood by him in his darkest hours and gave him work.
"It's Roger's world and I'm living in it," Allmendinger said. "I'll go back and I'll celebrate this and enjoy it. And definitely take it all in as it's happening. But I don't let it dictate my life anymore, which I used to."
Pole-winner Michael McDowell was second, with native Ohioan Sam Hornish Jr. third, Max Papis fourth and Brian Vickers fifth. Hornish took over the season points lead, 13 points ahead of Elliott Sadler.
The race was plagued by spin-outs and fender benders.
The last one almost changed the outcome.
With everyone racing to the finish and Allmendinger's Discount Tire Mustang comfortably ahead of McDowell by a couple of seconds, the car driven by Kenny Habul spun out on Turn 11. Out came the caution, with Allmendinger left to make one last stand.
"Since I'm out here running for a championship, I feel like a lot of times I'm taking a little bit more than I give," Hornish said of his willingness to avoid problems in order to keep running and piling up points. "That last restart, I had to take a little bit there."
Hornish made a run at the leaders almost immediately and also tried to skirt inside McDowell at the first turn. Allmendinger, who ended up winning by 1.165 seconds, was focused on holding on.
"The only thing about the green-white-checker was I wasn't great on restarts," Allmendinger said. "It took three or four laps for the tires to come in and this place, because you're sliding around and the corners are so tight, it just invites people to kind of come in and want to move you out of the way."
But he outgunned McDowell in the home straight, held his ground in the first curve and then played keep-away the rest of the way.
Like all the rest of the leaders, fuel was a consideration since almost everyone hadn't counted on the extra laps under caution.
"When that green-white-checker came out, I think everybody got pretty nervous," said McDowell, who captured his second career pole earlier in the day. "We all worked so hard to save fuel during the caution. Had the caution came back out, and there'd been another green-white-checker, we'd all have been in trouble."
Allmendinger's team kept him from worrying.
"The whole time, I was like, `Are we good on fuel?'" Allmendinger said of his radio conversations with crew chief Jeremy Bullins. "He's saying, `Yeah, man, you're fine. Just keep going.'"
Absolutely no one was surprised there were lots of caution flags, with 40 large, powerful cars racing around a layout with a variety of elevations and hairpin curves that is just 40-feet wide in places.
The first 18 laps were clean but then things started getting messy. Justin Allgaier -- who would bounce back to briefly challenge for the lead later -- found the sand off Turn 9 for the first yellow.
Trevor Bayne and Regan Smith were among the drivers who had their cars spun, either through contact, aggressive driving or in the heat of the race.
By the end, however, with just 15 or so laps left, the top two had separated themselves, several seconds ahead of third-place Hornish. Almendinger held onto the lead -- not pulling away but not losing any ground -- as they made it a two-car race.
Rounding out the top 10 were Sadler in sixth, Marcos Ambrose, Allgaier, Bayne and Jeremy Clements.
Two drivers raced at Mid-Ohio and also planned on being in the middle of the action at Sunday's NASCAR Pure Michigan 400 at Michigan International Speedway. Ambrose was set to start 26th in Brooklyn, Mich., with Austin Dillon set to start a notch behind him. Both were expecting to helicopter between the two tracks.
Dillon, who placed 21st at Mid-Ohio, came into the race leading the Nationwide drivers' standings but is now tied for third with Smith.
Allmendinger remained humbled and excited.
He was touched by the kids from the event's namesake hospital in Columbus, many facing struggles against disease, injuries and illness.
"To have those kids here, it's an inspiration," he said. "It's funny. You see them and you see how excited they are to be here and it puts a lot of things into perspective before you even get into a race car.
"It was just a great weekend all around."