Allen Iverson explains why he rooted for Kevin Durant to win the 2017 NBA title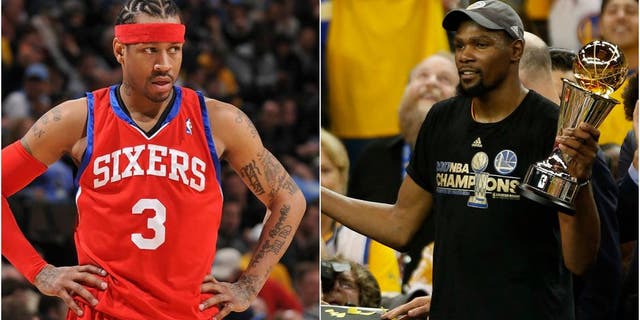 NEWYou can now listen to Fox News articles!
Newly minted NBA champion Kevin Durant a phrase which will remain novel for at least the duration of this summer turned heads this week with a comparison ofKyrie Irving to the Answer, Allen Iverson.
Durant was on The Bill Simmons podcast Wednesday, and when asked how the Cleveland Cavaliers point guard stacks up to the Hall of Famer, Durant didn't pull any punches ( via SI.com):
Kyries better than A.I. to me. Skill for skill, his handle is better … I feel like Kyrie got more skill. Im sorry.
That take might come as a disappointment to Iverson himself. The former Philadelphia 76ers star was rooting for Durant to win the 2017 title as captured by the official Twitter account for the Big 3 3-on-3 basketball tournament that features Iverson as a player-coach.
IVERSON: "LeBron's the best in the world. But sometimes, the better team beats you, man. They got beat by the better team. It happened to me before. It happened to me before.
"I love Kyrie. I love Tyronn Lue. You know what I mean? But I wanted to see Durant win, because he ain't never did it. I love his mama. I love everything he stands for. That's the only reason I was going for Golden State. I wanted Durant to feel what I never got the chance to feel, and they deserve it.
"I wanted Barkley to feel it. I wanted Ewing to feel it. Because LeBron's gonna win some more. He's gonna do it."
The Big 3 season begins June 25 at Barclays Center in Brooklyn and runs for 10 weeks, culminating in the Big 3 Finals on Aug. 26 in Las Vegas. Games will air on FS1 and FOX Sports in primetime on Monday nights, starting June 26.
The league features eight teams and includes some of the biggest names in recent NBA memory, from the 3-Headed Monsters' coach, Gary Payton, to the captain of the Killer 3s, Chauncey Billups and even Dr. J will take part in the festivities as coach of the Tri State squad.
With the NBA season in the rear-view mirror and college basketball still months away, the Big 3 is set to fill the gap in your basketball-watching life. We can't wait.