All-Star Game: National League Powers Past American League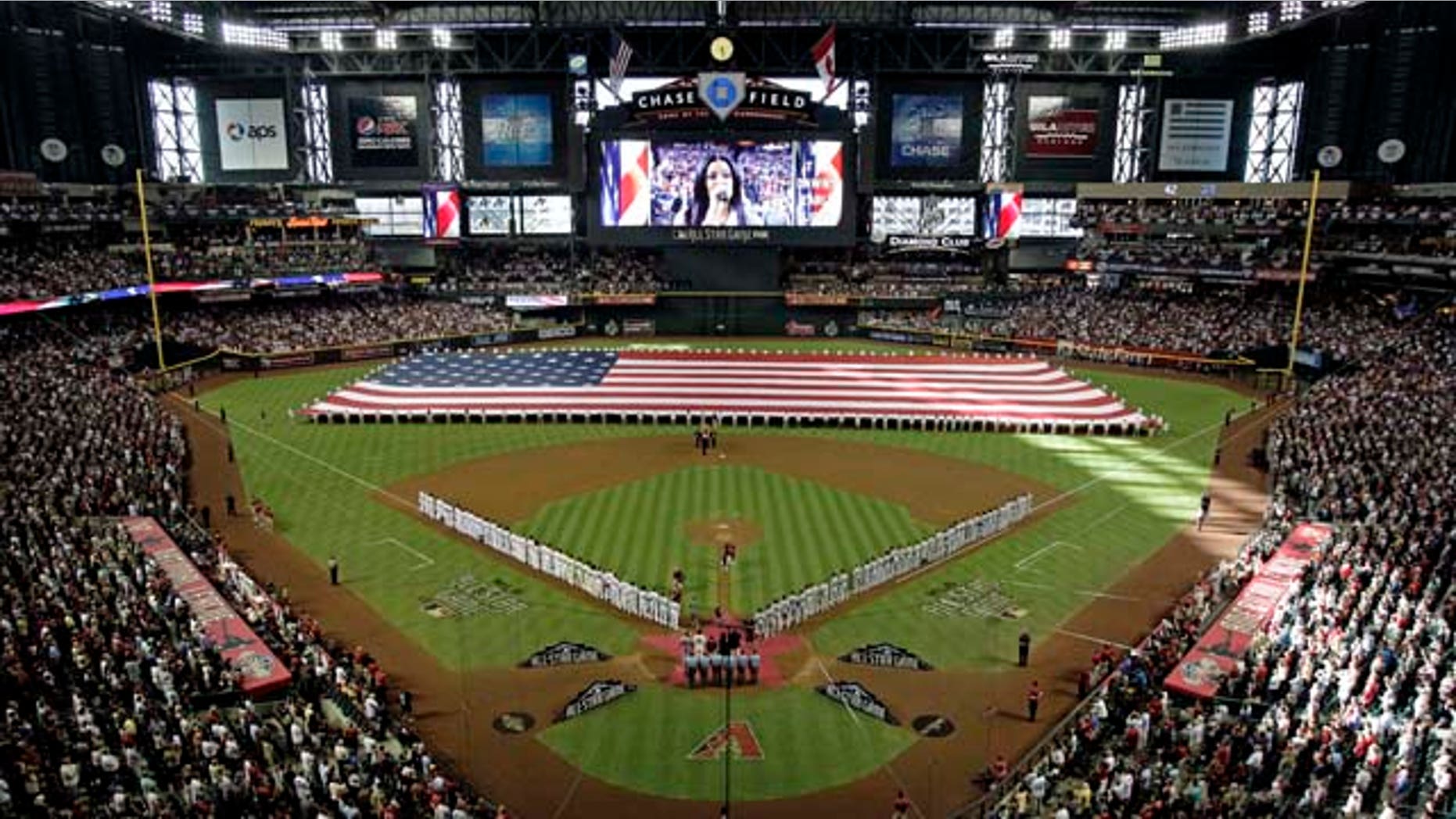 The 2011 All-Star Game could be summarized like this: there was a slide, a homer, lackluster protests, and a Prince.
Milwaukee Brewers' slugger Prince Fielder hit a three-run homer and Philadelphia Phillies' hurler Roy Halladay combined with nine relievers on a six-hitter in a 5-1 victory Tuesday night, giving the senior circuit its first two-game winning streak since the mid-1990s.
Heath Bell, for his part, sprinted in from the bullpen and slid across the infield grass, tearing up the turf just short of the mound. It was that type of night: The National League never stopped moving.
"I told some guys I wanted to have fun this All-Star game and needed some ideas," Bell said.
Brian Wilson got two outs and earned the save, just as he did for the Giants when San Francisco won the championship last November.
"It felt like a little bit like last year when you come into a pressure situation and you try to do as clutch a performance as you can," Wilson said.
Wilson sounded more impressed with Bell's theatrics.
"I think he nailed it," Wilson said. "I don't know if I'd make it. I think I'd slip, ankle, flip, next thing you know I can't pitch."
The NL claimed home-field advantage in the World Series, its only blemish being Adrian González's homer in the fourth off Cliff Lee. Fielder connected in the bottom half of the inning against C.J. Wilson.
With several big names as no-shows, the AL lost more than the game.
Boston right-hander Josh Beckett warmed up, then bowed out because of a sore knee. Detroit slugger Miguel Cabrera left after hurting the oblique muscle in his side while swinging.
"We are not going to use not having Josh as an excuse," AL manager Ron Washington said. "I think when you look at the ballgame, the bottom line is the National League pitching was outstanding. You know, we ended up giving up one big inning and they didn't give up any."
Even before the injuries, many stars were missing. Justin Verlander, Felix Hernández, CC Sabathia and other aces who started Sunday were ineligible, Alex Rodríguez was among those on the disabled list and Derek Jeter wanted a break.
In all, 16 of 84 All-Stars dropped out.
Tyler Clippard got the win despite allowing a single to his only batter, Adrian Beltre. Clayton Kershaw, Jair Jurrjens, Craig Kimbrel, Jonny Venters, Joel Hanrahan also relieved and combined to keep the NL ahead.
Fielder won the MVP award after becoming the first Brewers player to homer in an All-Star game.
"It's hard to beat great pitching and a three-run homer," NL manager Bruce Bochy said.
The World Series edge could help Fielder later, with Milwaukee and St. Louis tied for the Central lead at the break.
A half-hour after the win, the Brewers announced they had acquired former All-Star closer Francisco Rodriguez in a trade with the New York Mets.
"That was part of the message, how important it was for us, and how important the game was: Do it again for the National League champion," Bochy said.
Andre Ethier singled in a run off rookie reliever Jordan Walden in the fifth, and slimmed-down Pablo Sandoval had an RBI double off Brandon League in the seventh.
The NL dashed around the bases and swiped three bags, all in one inning and two by Starlin Castro. In all, the Nationals have enjoyed their best run since taking three in a row from 1994-96 — they had lost 12 straight games played to a decision before a 3-1 victory at Anaheim last year.
Before a crowd of 47,994 that included Muhammad Ali, this was no desert classic — except for fans of pitching, which has become resurgent as the Steroids Era has receded. Scoring in the first half dropped to its lowest level in 19 years and the major league batting average shrunk to its smallest midseason figure since 1985.
The All-Star homers were the first since J.D. Drew connected at Yankee Stadium three years ago. The AL finished with six hits for the second straight year and its two-year total of two runs is its lowest since 1995-96.
"Just a coincidence," Curtis Granderson said.
SB 1070 Protesters at All-Star Game
Critics of a polarizing immigration law in Arizona protested the legislation Tuesday in triple-digit heat outside Major League Baseball's All-Star Game in downtown Phoenix, drawing sideways glances from fans who were more interested in getting to the game.
Two separate pro-immigrant groups protested outside of Chase Field before the game, with one quietly passing out white ribbons that symbolized peace and unity and the other loudly chanting in bullhorns and marching in circles with signs that read "Boycott hate" and "Stand with us."
SB1070, signed by Gov. Jan Brewer in April, requires all immigrants to obtain or carry immigration registration papers and requires police, while enforcing other laws, to question people's immigration status if there is a reasonable suspicion they're in the country illegally.
Fielder Quiets Boos with Big HR for NL
Fielder, son of former All-Star Cecil Fielder, was booed during the Home Run Derby a day earlier. He was the NL captain for the Derby, and local fans were angry he didn't select Arizona's Justin Upton.
"I didn't take it personal at all," Fielder said. "I understood it. No hard feelings."
So if he had to do it over again, would Fielder go with Upton in the derby instead?
"Absolutely not," he said.
Peppered with boos for his perceived slight of Upton, Fielder took home MPV honors and quieted the crowd with a three-run homer that lifted the National League to a 5-1 victory over the American League on Tuesday night in the All-Star game.
A black-hatted villain for most of his stay time in the desert, Fielder calmed at least some of the Arizona ire directed at him by helping to give the National League home-field advantage in the World Series.
"It's nice to hear the cheers for him because I know yesterday, they wanted Upton in there," NL manager Bruce Bochy said.
The NL captain for the Home Run Derby on Monday night, Fielder irked the locals when he bypassed Upton, the Diamondbacks' ultra-talented right fielder.
Fielder couldn't keep them quiet during the derby, missing the final while being booed every at-bat. But he came through in the All-Star game, hitting a long drive off Texas left-hander C.J. Wilson in the fourth inning that sent a collective ohh! through the crowd and brought a smile to his kids' faces.
"Of course your family is going to be a little ... they didn't like it too much," Fielder said with sons Jadyn and Haven by his side. "But we didn't dwell on it. I didn't take it too personal because, I mean, I probably would have booed myself, too, if I was an Arizona fan."
Based on reporting by the Associated Press.
Follow us on twitter.com/foxnewslatino
Like us at facebook.com/foxnewslatino