ALL-STAR: 2009 Victory Launched SHR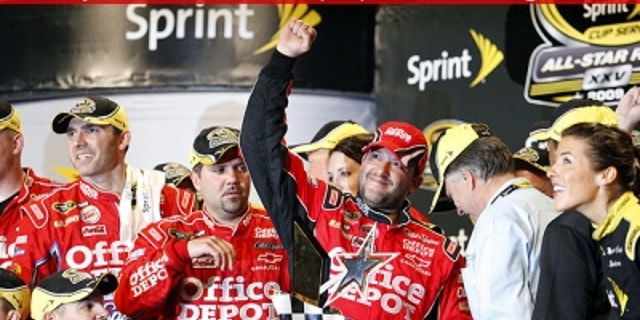 NEWYou can now listen to Fox News articles!
Today, Tony Stewart is the reigning and three-time NASCAR Sprint Cup champion and his Stewart-Haas Racing is one of the sport's elite teams.
But three years ago at this time, he was in the midst of what arguably was the biggest gamble of his career. And it was at the 2009 Sprint All-Star Race at Charlotte Motor Speedway where Stewart made that gamble pay off in a huge way.
Late in the 2008 season, Stewart made the shocking announcement that he was leaving Joe Gibbs Racing, his home for the prior decade, to become a driver and 50 percent co-owner of what had been known as Haas CNC Racing.
JGR was an established powerhouse, having won three Cup championships — two with Stewart and one with Bobby Labonte — between 2000 and 2005. Stewart was the team's lead driver and easily could have stayed there for the rest of his career.
Instead, he chose a bold move going to a team that up to that point frankly had had a lackluster history. In 284 Sprint Cup races, Haas CNC had produced exactly one top-five and 14 top-10 finishes. No poles, no victories and only 109 laps led in six full seasons. On top of that, when the deal was announced in late 2008, team co-owner Gene Haas was in the middle of completing a federal prison sentence for conspiring to commit tax evasion.
Many in the racing community viewed Stewart's move from the safe and strong JGR team to head the new Stewart-Haas Racing as a huge risk or perhaps even outright ill-advised. But backed with engines and chassis from Hendrick Motorsports, SHR was fast right out of the box.
Stewart opened the 2009 season with top-10 finishes in three of the first four races. In race No. 6 at Martinsville, he finished third and teammate Ryan Newman sixth. Stewart followed that up by running fourth at Texas, and second at Phoenix. After a 23rd at Talladega, Stewart came home second at Richmond and third at Darlington, which elevated him to second in points heading into the All-Star break.
Having already silenced the skeptics, Stewart then proceeded to go out and win the Sprint All-Star Race. For most of the team members, the vast majority of whom had worked for Haas CNC, it was their first NASCAR victory. And it truly put Stewart-Haas Racing on the map, where they have remained ever since.
"You couldn't have asked for a better first win, than to win the All-Star race," Stewart said in an exclusive interview with SPEED.com. "You've got team members that get to come to the All-Star race that don't normally get to come to the race track on a normal weekend. It was our first week having Gene Haas at the track with us."
The emotion in Victory Lane was what truly made the night special, Stewart said.
"Getting the first win with the team and the organization, and to see guys in Victory Lane crying, grown men that were crying in Victory Lane," said Stewart. "They had never been there before. To see the excitement and just to understand that was a big moment in history for our company and for a lot of those people. You couldn't have asked for a better night for it to happen."
This Saturday night, Stewart and his No. 14 SHR Chevrolet will again be one of the favorites to win the Sprint All-Star Race. The reigning and three-time series champion said he's happy with the new format change — four segments of 20 laps each, with a final 10-lap dash for $1 million.
The winners of the four segments will be the front four cars when the green drops for the last 10 laps. And with passing at a premium, there's a strong chance that the race winner will be someone who won one of the segments.
"I hope to win a segment and make it easier for myself to have a chance to win it," said Stewart. "I like the concept of the new format. The four guys that win the segments should start up front. They've earned that right to get their starting spot.
"I think it's cool. It puts a lot of pressure on you to be good every segment. If you can't win the first one, you've got to go for it in the second one. If you can't win the second, third and fourth — the same way. It's always been fun for the fans, but to keep tweaking it and finding new formats, it makes it exciting for everybody."
Tom Jensen is the Editor in Chief of SPEED.com, Senior NASCAR Editor at RACER and a contributing Editor for TruckSeries.com. You can follow him online at twitter.com/tomjensen100.