All-Purpose Playbook: NFL Week 5 picks, survivor pool analysis and more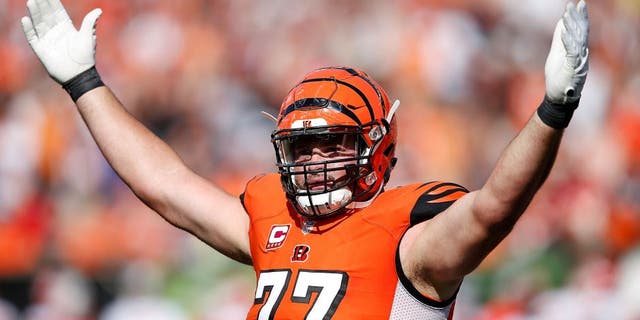 NEWYou can now listen to Fox News articles!
Welcome to the All-Purpose Playbook, a Buzzer column that is either (a) a guide to many things NFL related, or (b) a road map to hell. Check back here on Friday afternoons for survivor pool analysis, football picks, a smattering of GIFs and some nonsense. Follow me @brettsmiley and/or email me with any questions or comments at basmiley [at] gmail [dot] com.
Week 5 marks NFL's almost-quarter-pole when divisions begin to shake out and teams take shape. Unfortunately some teams are malformed blobs but pleasant surprises abound.
By the way, If you're a fan of any team that competes in a division other than the AFC South and would like to submit an application to have your team transfer into that hot mess, please go here.
Actually that's a non-functioning website but if you'd like become the owner and operator of TheAFCSouthStinks.com, have at it.
The Houston Texans had a prime opportunity to knock the Luck-less Colts, led by a bacterially-infected Matt Hasselbeck, down a peg on Thursday night -- but pooped the bed in an effort that culminated with head coach Bill O'Brien shouting "WHY DID YOU THROW THAT?!" about a Brian Hoyer interception. Check those highlights here if you were busy watching the Royals-Astros game (a good decision).
Basically, just before getting wrecked, Hoyer heaved the ball up into the Twilight Zone for the easiest interception of Colts safety Mike Adams' career. There's at least a 9-percent chance that Houston's game of QB musical chairs is going to end this season with Jared "The Hefty Lefty" Lorenzen again offering his services on Twitter, Bill O'Brien deciding "Screw it, why not?" and installing the slowest but strongest and most entertaining version of the Wildcat offense any of us have ever witnessed.
Anyhow, please excuse the diversion. Let's get on to Week 5. The All-Purpose Playbook (APP) must begin with a very brief victory lap for last week's 3-0 performance (Jets rolled in London, Washington toppled the Eagles and Giants +5.5 won outright in Buffalo), plus an Ill-Advised Teaser hit and so did the four-leg Ludicrous Mode Teaser.
But APP knows to mostly just act chill after a week like that because no league serves colder humble pie than the NFL.

WEEK 5 PICKS
Cincinnati Bengals -3 vs. Seattle Seahawks
The Seahawks' offensive line has played terribly so far this season. The unit has allowed 18 sacks already, putting them on pace for 72 on the season, which would put them in David Carr circa 2002 territory when he got devoured an NFL-record 76 times.

How much of this is Russell Wilson's fault for evacuating the pocket and dashing around? It's hard to pinpoint but those aren't always functional pockets he's leaving -- more like those decorative, make-believe pockets on skinny jeans that can only fit a single key and maybe a couple euro coins. But I wear loose-fitting Levis, so that's just an approximation.
This Seahawks offense, especially with a so-far-limited Marshawn Lynch who managed 829 yards after contact in 2014 (second to only DeMarco Murray -- the Dallas version), has been bad. They've scored only five offensive touchdowns through four games.
Meanwhile, how about those Bengals? They're sitting pretty atop the AFC North at 4-0, ranked fourth overall according to Football Outsiders' DVOA score. The left side of their offensive line (Andrew Whitworth at LT, Clint Boling at LG) is one of the best tackle-guard combos in the league and they've got a solid 1-2 running back punch with Jeremy Hill and Gio Bernard. Overall there's a heck of a lot to like about these Bengals. Their greatest weakness is probably their secondary but if the defensive line can get some pressure against the Seahawks' sorry O-Line, it won't matter.
Now this is the part that would customarily be reserved for the note that this game will be played at 1 p.m., i.e. not during prime time -- and so Andy Dalton should be fine. But APP is not going to do that.
The Seahawks are also coming off a short week having played on Monday Night against the Lions, a game they escaped thanks to more pixie dust (linebacker KJ Wright's illegally batted ball out of the end zone resulting in a game-saving touchback on a near-touchdown by Calvin Johnson) in the Magical End Zone where the Fail Mary occurred three years earlier.
This will be a big statement game for the Bengals. The betting public may not be ready to accept it but these Seahawks just aren't the 2013-14 Seahawks -- at least not right now. So APP is putting three big units on the Bengals, or just one Randy Johnson-sized Big Unit.
Sayonara, Seahawks!
Washington Flyin' Snyders +7.5 at Atlanta Falcons
The Dan Quinn-led Falcons are playoff-bound thanks to a shiny 4-0 start and a soft schedule, but let's pump the brakes just a little bit. Before annihilating the Texans, they needed a fourth-quarter comeback in each of their first three games, one of which the Giants gift-wrapped for them. Atlanta also beat a Tony Romo and Dez Bryant-less Cowboys squad and the dysfunctional Eagles.
The Falcons are good but APP doesn't think they're quite lay-more-than-a-touchdown good yet, not against the better-than-you-think Flyin' Snyders which mounted a 15-play, 90-yard touchdown drive against the Eagles last week, registering the winning score with 26 seconds left. It was a nice, confidence-building drive and win for QB Kirk Cousins and the offense, which has already shown an ability to rush the ball effectively.
Tickets have poured in on the Falcons so far (75 percent of wagers) but the line may slip to 7 closer to kickoff so grab that hook while you can, unless you think APP is off its rocker and want to pound Atlanta as it seeks to complete the NFC East Win Column Smorgasbord.
Chicago Bears +9 at Kansas City Chiefs
APP just can't quit the Chicago Bears, kept trying to look away from this game but then got all twitchy and succumbed to the allure of 9 points.
Surely this will result in a self-loathing-filled Sunday afternoon, but we've come too far. In his return to action last week . . . no . . . no, WE JUST CAN'T DO IT!
Poorly as the Chiefs have performed at times this season, the Bears secondary is just too susceptible and overall the team prone to implosion as they hit the road after an emotional high. It's the first APP mid-column audible!!!! Everyone get out!!!
The lesson here is this: Appetizing as something might appear, don't select against your gut. You'll end up with indigestion and a sore rear end from sitting on the can too long. The Chiefs aren't a good bet necessarily to cover nine but let's all just back away.
New England Patriots -8.5 at Dallas Cowboys
This is a very public position but hey, sometimes the public is right. Vegas took a beating in Weeks 1 and 3 when a lot of popular favorites covered.
A lot of people have likened this Patriots squad to the 2007 group that scored an NFL-record 589 points and covered the spread eight straight weeks including four 14-plus point spreads. Oddsmakers couldn't make the spreads high enough until they finally did -- favoring the Patriots later in that season by 24, 20.5 and 22 points (all of which they failed to cover) en route to a perfect 16-0 regular season record.
APP doesn't think this Patriots team is as good as that one, but Belichick's teams have performed well after bye weeks and the Patriots have never hesitated to run up the score. "America's Team" will have the services of "Human Piece of Garbage" Greg Hardy along the defensive line as well as linebacker Rolando McClain who also returns from a four-game suspension, but typically scheme prevails over garbage.

It's a lot of points to lay on the road but if the Patriots mount a lead, the Brandon Weeden-led 'Boys will have a brutal time catching up and won't have pass-catching specialist Lance Dunbar for checkdowns as he went down for the season last week with a torn ACL. This has the makings of a 38-13 Patriots romp.
(Season record: 5-5)
THE "SOMETHING'S GOTTA GIVE" BOWL
In the NFL's Game of the Week, the Jacksonville Jaguars (1-3) visit the Tampa Bay Buccaneers (1-3).
Here's a fun statistic:
APP doesn't have a position here but just wanted to preemptively congratulate either Smith or Bortles for getting off the schneid.
SURVIVOR AND ADVANCE
There's a lot of options (none of them fool-proof) this week for those of you in revival pools, and some options for the 32 of you still alive in original pools.
The Falcons, mentioned above, deserve some consideration. That's the top pick in FOX Sports survival pools with 23 percent of vote, a shade above the Chiefs with 22 percent. APP thinks both teams win outright but the Chiefs are have a lesser shot at getting upset at home.
The Chiefs ought to have a major sense of urgency and sense of relief against a softer opponent following a brutal stretch against the Broncos then trips to Green Bay and Cincinnati. Expect a heavy dose of Jamaal Charles. After Bears veteran center Will Montgomery went down last week, offense coordinator Adam Gase will have to decide between starting either rookie Hroniss Grasu, or moving left guard Matt Slauson inside.
"I've always had older centers who make your life a little bit easier," Jay Cutler said. Either option is less than ideal and will take Cutler some getting used to.
Between the Falcons or Chiefs, APP leans Chiefs, but take a look at the New York Giants hosting the San "WTF Happened to Kaepernick?" Francisco 49ers. That's the big question. The Giants under head coach Tom Coughlin have often found ways to play down to opponents before and lose games they should win, but this is an opportunity for them to get over .500 after their early stumbles and they should be up for it.
ILL-ADVISED TEASER
(Go here if you need an explanation on how teaser bets work.)
It's another 6-point teaser this week, taking the New England Patriots through the field goal to -2.5 and the Cincinnati Bengals through the zero to +3. Andy Dalton, we're all counting on you.
LUDICROUS MODE TEASER
Seven-point teaser: Patriots -1.5, Bengals +4, we're going UNDER on Broncos-Raiders (from 43.5 to 50.5) and adding in Washington from +7 to +14.
HAPPY WEEK 5, EVERYONE!
Follow me @brettsmiley, send e-mail to basmiley at gmail.com and follow The Buzzer on Facebook