All eyes on boxer Félix Verdejo as he steps into the ring this weekend in NY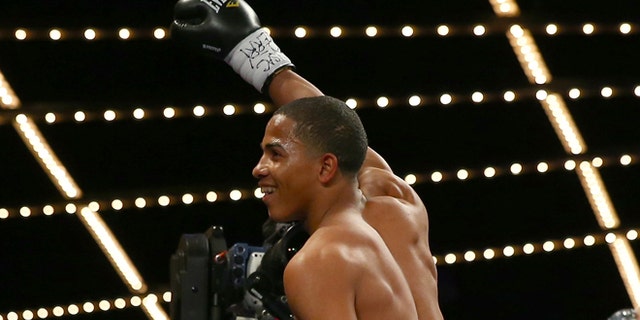 NEWYou can now listen to Fox News articles!
New York, N.Y. – They could use a shot of good news in Puerto Rico these days. Read the papers, ask around, see the grim looks on the faces of the adults going about their day-to-day business in the middle of a financial crisis.
And so they seek diversions.
For instance the fortunes of the pugilist who just might be the island's next breakout boxing star, the lightweight Félix Verdejo (17-0 with 13 knockouts), which are getting extra attention these days.
In part that's because he fights Saturday at the Madison Square Garden Theater in New York City and on HBO, against another unbeaten boxer, the Texan Ivan Najera (16-0 with 8 KOs).
Verdejo isn't yet in the iconic time-tested, Hall-of-Fame-level of respect and even beloved stature among Puerto Ricans that top pugilists like Félix "Tito" Trinidad or Miguel Cotto territory who get showered with excessive praise and admiration.
But he's starting to get there.
The 22-year-old chatted with Fox News Latino ahead of his clash. He is quick with a grin, a contrast to the studious persona of Cotto, and he showed no tightness as he ticked down to Saturday.
Does he feel pressure to be a star like Cotto and Trinidad?
"No," he answered in Spanish. "It motivates me even more, to train even harder. To accomplish my goals."
I put it to him, point blank. Will he be better than Trinidad and Cotto when all is said and done?
"I'm gonna work hard to accomplish that," he said, "only time will tell – those are big shoes to fill!"
And given the context of the fiscal woes on the island, there is another subtext at play in Verdejo's Saturday clash. He is promoted by Top Rank, the company that repped Cotto for years until the welterweight jumped ship to the Roc Nation vehicle for the lure of a mega-moolah deal — well over $50 million for three fights.
Cotto had his first bout for the Jay Z entity last week — not at MSG but at rival arena Barclays Center. He won, demolishing Aussie challenger Daniel Geale.
Because of that, expectations may be extra high for Verdejo, both in the eyes of the Puerto Rican rooters who crave good news and of Top Rank, a company that understands the passion of the Hispanic fan and couldn't have appreciated Cotto's choice.
As for fighting chops, Verdejo is a heavy hitter who likes to go for the knockout. He understands what the fans want to see. He has pop in both hands, and Najera is a step up for the youngster, who, by the way, still lives at home with mom and three brothers.
He is 1-0 in 2015, having beaten Marco Antonio López (24-6) in Puerto Rico, in April.
Najera, also 22, beat 14-11-2 Robbie Cannon in a unanimous decision in February. He may not have the power to keep Verdejo at bay.
If you haven't seen Verdejo – he has solid balance, tight defense, is patient not reckless. He isn't a crazy volume-punching guy, but once he gets going, he puts combos together smartly.
He maintains the distance he wants to fight at well, feints effectively and is light on his feet but doesn't bother with excessive side to side movement.
He can hurt you to the head or body, and preferably some of both. His top virtue is patience – he waits, assesses, and when the time comes to go full bore, he swings hammers.
Saturday's fight won't show if he'll reach Trinidad or Cotto level, but even so, Top Rank's top man Bob Arum likes the kid's chances.
"From the time we signed him, we believed he had the makings of a superstar," the 83-year-old told me. "I truly believe Félix Verdejo is the next big superstar, certainly Hispanic superstar. I think he will be reminiscent of the great Félix Trinidad."