All about Bryce Harper's controversial, frustrating, record-setting day versus the Cubs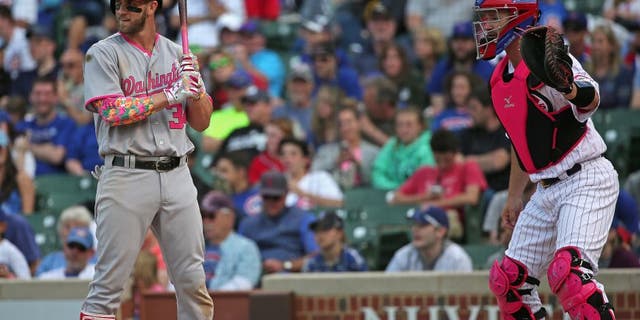 This weekend, in a hotly anticipated matchup against the teams with the two best records in the National League, the Chicago Cubs wanted no part of reigning MVP Bryce Harper. Despite being in a recent cold slump (but still having 10 home runs so early in the season), Harper was pitched around like he was Barry Bonds. Here are some of the unbelievable statistics and records, along with some thoughts on how the Nationals can stop having other teams take the bat out of their MVP's hands.
1. Bryce Harper became the first player in the history of baseball to make seven plate appearances without having an official at-bat.
The first player in the history of baseball. This is not one of those watered-down, couched statistics you hear all the time, made to make something feel bigger than it really was. "First time for a Nationals player since the team moved to D.C." "First time for a National League player since the '94 strike." "First time since the mounds were lowered 1969." "First time post-war." No, this is the history of baseball, going back to the 1880s when guys named Cupid, Hub, King, Abner, Ginger, Honus, Count, Red and Heinie were wearing Civil War-era beards, promoting the smooth, healthy pull of Chesterfield cigarettes and playing a sport with a dead ball and had no sac flies, foul bunts or catcher's mitts. Going all the way back to then, no one did what Bryce Harper pulled off on Sunday. How did it happen? Harper walked six times and was hit by a pitch. None of those count as at-bats, so Bryce was 0-0, 6 BBs, 1 HBP.
2. Those six walks in a single game were just the fourth time that's ever happened in MLB history.
Jimmie Foxx (1934), Andre Thornton (1984), Jeff Bagwell (1999) and Harper are the only four to ever pull the feat. One of the players is a Hall of Famer, one should be soon and the other is making his case for Cooperstown every day.
3. Harper's series against the Cubs: BB, BB, single, BB, out, K, K, BB, BB, sac fly, BB, IBB, BB, BB, IBB, HBP, BB, IBB, IBB.
That's 19 at-bats, 13 walks (four intentionally), one sac fly, one single, two strikeouts and a groundout. Overall, he was 1-4 with two strikeouts.
4. The Nats' right-fielder saw 27 pitches on Sunday. Two were strikes.
That's a 93/7 walk to strike ratio.
5. Harper didn't have an official bat on Saturday either, giving him a current streak of 11 plate appearances with one.
On Saturday, Harper walked three times (once intentionally) and hit a sac fly. On Thursday - the first game of the series - Harper went 1-1 with a single and three walks. The next day, he grounded out, struck out twice and was walked one more time. That day, Harper seemed to get frustrated by the Hack-A-Bryce strategy and was swinging at pitches out of the zone. "If I don't swing the bat against [John] Lackey one time [Friday], I think I walk 16 times," Harper said of the series. As if to confirm that...
6. Harper hasn't swung at any of the last 36 pitches he's seen.
He should go up with an umbrella next time they play the Cubs, just to see what genius Joe Maddon does with it.
7. Oh, Harper's 13 walks during a single series? They were a Major League Record too.
Imagine if he'd gotten 16.
8. A bunch of big-name players don't have six walks this season.
They include: Evan Longoria, Alexei Ramirez, Carlos Beltran, Brandon Phillips and Matt Kemp. The last three all have three walks total.
9. Harper has almost as many walks in his last 786 PA than he did in his first 1,489.
Harper has walked 154 times since the start of the 2015 season. Prior to that (2012, 2013, 2014), he had walked 155 times.
10. He raised his OBP 32 points on Sunday.
Again (we hate to sound like a broken record), but that's without an at-bat.
Okay, so here are the Cubs, certainly afraid of what Harper could do to them, playing a game that the old-school baseball guy would say "isn't right." (We heard the same things when people were pitching around Barry Bonds, whether the bases were empty or full.) The thing is, it worked. With Harper neutralized, the Cubs went on to sweep the four-game series against the second-best team in the National League. It took some help, though.
12. Ryan Zimmerman, who bats cleanup, directly behind Harper, left 14 men on base on Sunday.
Jayson Stark (with the help of Retrosheet) found out that three other players in the last 60 years have left 14 on base. All were in extra inning games. (The "60 years" thing isn't some arbitrary number to disguise the fact that, say, 7 guys left 14 stranded in 1954 and 1955. That's just as far back as Retrosheet's database goes.)
If Zimmerman gets one hit with a man in scoring position (including twice when the bases were loaded), then the Nats win the game and Maddon's Walk-A-Bryce strategy (I'm trying out various names - so far I'm partial to Hack-A-Bryce) was only partially successful and probably something other teams wouldn't emulate. Now, I wonder.
The obvious question is: Why does Dusty Baker keep Zimmerman in there, especially when Daniel Murphy, who bats No. 5 behind Zimmerman, is batting nearly .400 this year. Swap them and maybe this problem is avoided, right?
One assumes that the long-term thinking is to keep the Lefty-Righty-Lefty progression of Harper-Zimm-Murphy. You don't want two of your best batters inviting teams to bring in lefty bullpen specialists later in the game.
The other has to do with plain ol' simple faith and the law of averages. "[Zimmerman is] one of the premier clutch men in the game," Baker told reporters after the game, "so I'm sure it's killing him and we just have to go back to the drawing board and just keep fighting."
It's a simple point: Zimmerman isn't going to be in this cold snap forever.
The Nats manager also sees something with the walks that only an old manager could: Throwing intentional balls to Bryce Harper, including twice to load the bases, puts just as much pressure on the pitcher as it does on Zimmerman. Neither have any room for error. Walk Zimm and the Nats score. Put a ball in the dirt for a passed ball and the Nats score. Plunk a guy, the Nats score. And, as Baker said, throwing all those balls and then having to buckle down and throw strikes isn't the easiest thing in the world.
Overall, there's just a lot of luck involved. Maddon gambled this weekend and Zimmerman didn't have the hand to make him pay. I don't think it validates Maddon's theory the same way I don't think Zimmerman crushing a grand slam in the top of the 12th would have invalidated it. For as great as analytics are, the game is still about isolated one-on-one matchups. Zimmerman has been the Nats' king of clutch - a guy who is high on the all-time walk-off HR list. Over the years, pitching to him hasn't been playing the numbers. Maddon did and it worked. And until Zimmerman starts making pitchers and managers pay for walking Bryce (or unless Baker moves up Murphy or rearranges the lineup), there's every incentive to put the reigning MVP on base, no matter how record-setting the pace.