Alistair Overeem on rematch with Brock Lesnar: 'Maybe one day in WWE'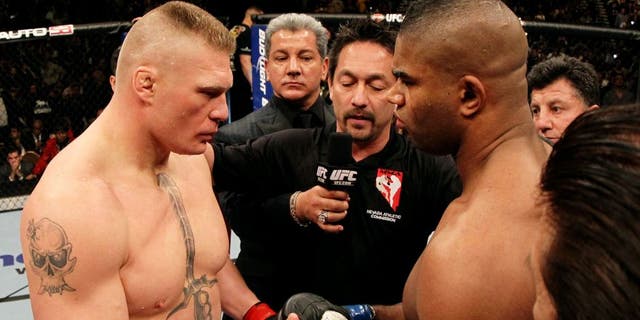 Alistair Overeem made quite the splash when he made his UFC debut in 2011 with a first-round TKO victory over Brock Lesnar in what was ultimately the former heavyweight champion's final fight inside the Octagon.
Despite Lesnar staying retired from MMA for the past four years while returning to WWE and his professional wrestling roots, his name still comes up from time to time in the fight community. Most notably on Friday at a Q&A in London when Overeem was asked about giving Lesnar a rematch at some point down the road.
"The Brock Lesnar fight?" Overeem said with a smile on his face. "Maybe one day in WWE -- when I retire from real fighting."
It wasn't clear if Overeem was just making a joke or actually taking a dig at Lesnar.
Since Lesnar left for WWE, Overeem has faced a few ups and downs but now stands on the precipice of a potential title shot at some point in 2016.
He just recently signed a new multi-fight contract with the UFC and booked a fight in his native Netherlands where he faces Andrei Arlovski in the main event on May 8.
As for Lesnar, he may no longer be fighting in the UFC, but he's not doing too bad in his chosen career with the WWE.
He's currently one of the highest paid stars in the organization while also preparing to perform at WrestleMania 32 in Dallas in front of what may ultimately prove to be the biggest audience to ever watch a WWE event.