Alistair Overeem: I didn't expect Stipe Miocic to beat Fabricio Werdum so quickly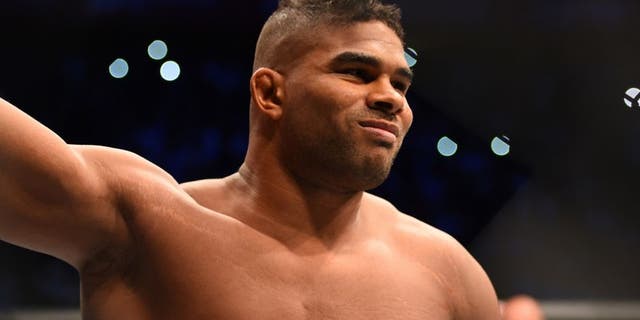 NEWYou can now listen to Fox News articles!
No. 1 heavyweight title-contender Alistair Overeem was surprised by how quickly Stipe Miocic became the new UFC champion last Saturday in Curitiba, when he scored a first-round knockout over Fabricio Werdum. "When I saw the fight I was actually flabbergasted by how easily [Miocic] won. I would never have expected him to knock Fabricio out in the two-minute mark, two and a half minutes. Fairly easy," he said on Brian Stann's Toe-2-Toe SiriusXM Rush talk show, as transcribed by Jed Meshew.
"Not that many significant strikes landed before. Basically it was a right hook and then another right and that was the end of that."
Overeem, who recently fought and won in his native Holland, was also especially impressed by how well Miocic fought in Werdum's home territory of Brazil. "I definitely would have given Fabricio Werdum the home-field advantage," he continued.
"I mean, this was a soccer stadium filled with 45,000 Brazilians, it's hostile territory for any outsider to fight there. That definitely does give the home fighter an advantage I think, but Stipe just went in there and blasted his way to victory in two and a half minutes so congratulations to Stipe. An unexpected win in my book."
After winning his past four fights -- three by finish -- and four out of his past five overall, the Dutchman is quite certain that he'll be Miocic's first title challenger. Overeem doesn't much care for the UFC's often inscrutable rankings and sees himself as the clear No. 1 contender.
"I think I'm gonna be next for the championship. I just assume that," he explained.
"You know, four wins in a row. Nobody else has better numbers than that. Okay you have Cain Velasquez but he's coming off of a loss. He's ranked No. 2. I don't really get that. He's coming off of a loss and then the other thing is his last win dates from 2013. That's three years ago. It's 2016 now. His last win is 2013. So I don't understand why he's ranked No. 2. But I'm not a numbers guy."