Alexander Gustafsson: 'I'm ready to go toe-to-toe with Daniel Cormier' at UFC 192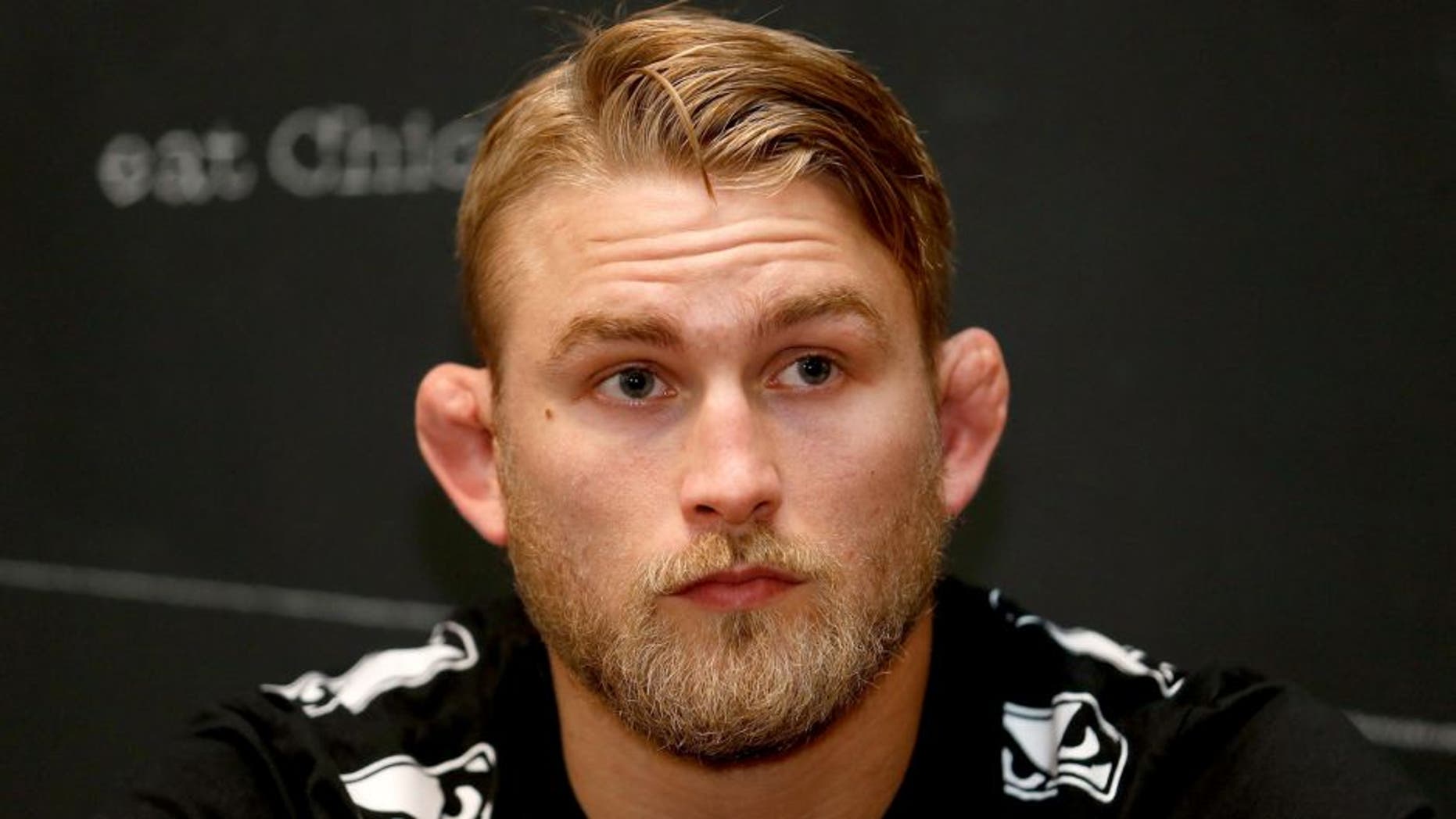 Alexander Gustafsson sat at a table on a stage inside the MGM Grand in Las Vegas last month, just 20 feet away from his UFC 192 opponent Daniel Cormier as the light heavyweight laid the sarcastic trash talk on thick. Cormier talked down to Gustafsson and charged that none of the Swede's career wins were notable, and that his biggest accomplishment was losing a controversial and close decision to then-champ Jon Jones in 2013.
Gustafsson sat quietly through all this, barely moved, and never spoke back. One could imagine the big man silently seething, however, waiting for his chance to make Cormier pay in Houston.
As it turns out, "The Mauler" was more sleepy than angry. "I wasn't even listening," he told FOX Sports.
"I was just tired after the trip for me to come over here [from Sweden to the United States] to do stuff. It takes energy to do the traveling so I was more or less just tired up there. We'll see how it goes.
"I like to do my talking in the cage. That's what I'm good at so I'm sticking to that. I'm not much of a talker on a stage. I believe we're all professional athletes so we can show some mutual respect and wait until we get in the cage."
Gustafsson may have been quiet with the cameras going at that press conference, but he doesn't mind admitting what all competitors know -- that he hates his last fight being a defeat. Gustafsson lost by TKO to Anthony Johnson in Stockholm earlier this year.
He'll step into the UFC Octagon this Saturday for the first time since that night. Collecting a world title and a win bonus will be great in Gustafsson's mind, but simply getting a win is the priority since the getting the taste of defeat out of a fighter's mouth is a difficult and important task.
"It's one of those things. You just want to leave it in the past and move on to new challenges. This fight for me is a good way to leave that in the past, keep looking forward. I have new goals, and a new fight."
After a tough loss it can be difficult to recover mentally. In fact, Gustafsson has previously said that he contemplated retirement after losing to Johnson.
Having a new opponent helped Alexander focus on new problems, however, and pick himself up. "I try to see the technical side of it," he explained.
"What I did wrong, what I could do different, what I should have done. I didn't take the initiative in that fight. I was a slow starter, which is not usually me. I broke it down to the details."
Getting the unexpected title shot against Cormier helped motivate the challenger as well. "[Getting the title fight] came as a shock to me at first," he admitted.
"It was absolutely a boost for me. Once it sunk in, I felt great. I got my motivation back and everything turned out good at the end. I'm happy I got to go through those tough times. I got the support from my family, friends, and team, and we got the fight. I'm in the best shape of my life, now."
Gustafsson understands that he'll be considered an underdog by many against Cormier. After all, DC just finished the last man Alexander lost to.
However, Gustafsson is confident that he'll be effective anywhere the fight may go, even while wrestling the former two-time Olympic wrestler. "I absolutely feel very comfortable. I'm not afraid of DC's wrestling," he insisted.
"He is a high-caliber guy and I can't compare myself to Jon Jones and other fighters, because we're totally different fighters and different fighters make different fights. But I've done my homework. If he wants to wrestle, I'll be ready to wrestle. If he wants to strike, I'll be ready to strike. I'll have an answer for whatever happens. He'll probably take me down once or two times but I'll get up. I'm ready to go toe-to-toe with Daniel Cormier. I'm ready."