Alexander Gustafsson believes Jon Jones was using banned substances when they fought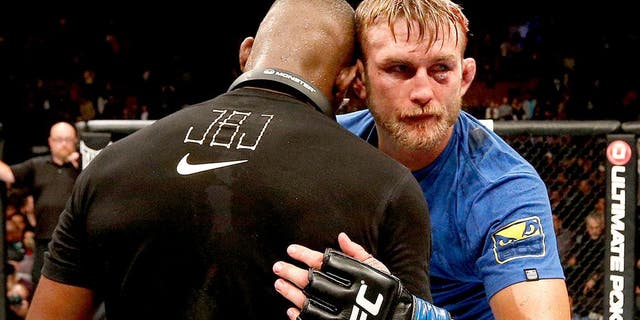 NEWYou can now listen to Fox News articles!
Add Alexander Gustafsson to the list of people who think Jon Jones was on performance-enhancing drugs long before he was caught by USADA.
Jones, who is currently serving the final months of a year-long suspension, tested positive for a banned substance before his light heavyweight title fight against Daniel Cormier last year, and Gustafsson believes Jones could have even been on them when they crossed paths over three years ago at UFC 165.
I believe so, I believe so, Gustafsson told MMAFightingwhen asked if he thought Jones used performance-enhancing drugs. I think hes been doing a lot of stuff that he shouldnt be doing. Its tragic to say, but I believe hes been doing (expletive) he shouldnt for a long time.
Jones admitted to hard partying the night before his bout against Gustafsson and relishing in the fact that he was still able to beat the Swede. Just over a year later, Jones tested positive for cocaine before his first bout against Cormier and had a run-in with the law after a hit-and-run accident where drug paraphernalia was found in his car at the scene.
Jones apparently got his life together in 2016 and committed to a vigorous weight lifting regimen before fighting Ovince Saint Preux at UFC 197, but his failed PED test a few months later at UFC 200 has caused a few folks, including Gustafsson, to look back on those days with skepticism.
Well, you know, he hadnt been in the cage for a long time when he fought [Ovince Saint Preux], he said. I dont know. I dont know if he was on it or not for that fight, but I believe he was when we fought and stuff like that. But anyway, its history now and new times are coming, and we probably will fight again someday.
Someday could be as soon as later this year as Jones is set to return this July to settle the score against Cormier. If Bones does walk away with the win, Gustafsson very well could be his first title defense in his second run as UFC champion.
Heck, even a loss from Jones could set up a No. 1 contenders bout between the owners of the greatest light heavyweight fight in recent history.
Barring injuries or hit-and-runs, fans are getting this rematch one way or another, and itll surely have a bit more heat this time around.