Alex Rodriguez Fires Back: Ballplayer Sues MLB, Bud Selig Over Alleged 'Witch Hunt'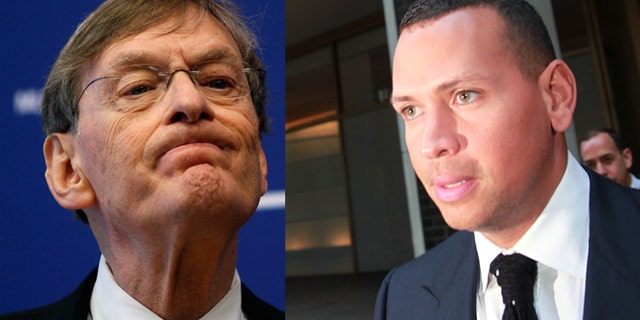 Alex Rodriguez has sued Major League Baseball and its commissioner alleging they are trying to destroy his reputation and career.
The lawsuit filed by the New York Yankees third baseman in New York State Supreme Court was made public Friday. It seeks unspecified damages.
The suit claims Commissioner Bud Selig and Major League Baseball have tried to smear Rodriguez' reputation to "gloss over" Selig's past inaction and tacit approval of the use of performance-enhancing substances in baseball. The lawsuit says Selig wanted to secure his legacy as the "savior" of America's pastime.
"The entire legal dynamic is very complex, and my legal team is doing what they need to in order to vindicate me and pursue all of my rights," Rodriguez said in a statement about the lawsuit.
Rodriguez is appealing a 211-game suspension for violating baseball's drug agreement and labor contract. The lawsuit says the suspension will cost him tens of millions of dollars in salary and could prevent him from meeting certain performance goals in his contract worth millions of dollars. According to the New York Times, Rodriguez also accuses Anthony Bosch, the head of the clinic where Rodriguez allegedly got his performance-enhancing drugs, has been paid $5 million by MLB to testify and push Rodriguez out of the game forever.
The Yankees star has been attending grievance hearings for the last week related to his suspension
On Thursday night, more than 100 Latinos lined the sidewalk along Major League Baseball's Park Avenue office in support of A-Rod, wearing Rodriguez's No.13 jersey or T-shirts and chanting "Alex, querido, el pueblo esta contigo!" which means, "Alex the people are behind you," according to ESPN.
Rodriguez thanked about 20 supporters who waited outside the building Thursday from 9 a.m. to 6 p.m., and participated in a candlelight vigil in his honor.
"I talked to my mom, and she was like, 'Get back there and thank those great people,'" Rodriguez said, according to ESPN.
"I know she told me she wishes she was here. Obviously, it's emotional, people are out there for 8-10 hours a day, the least I can do is come shake their hands."
The supporters, who waived many flags, including the Dominican flag, grew throughout the week from 10 on Monday to more than 150 on Wednesday, ESPN reported. The rallies were organized by Hispanics Across America and its president, Fernando Mateo.
When asked whether Rodriguez was paying for the supporters, Rodriguez said, "I'm Not."
Includes reporting by The Associated Press.
Follow us on twitter.com/foxnewslatino
Like us at facebook.com/foxnewslatino