Alex Gordon homers in first rehab game for Triple-A Omaha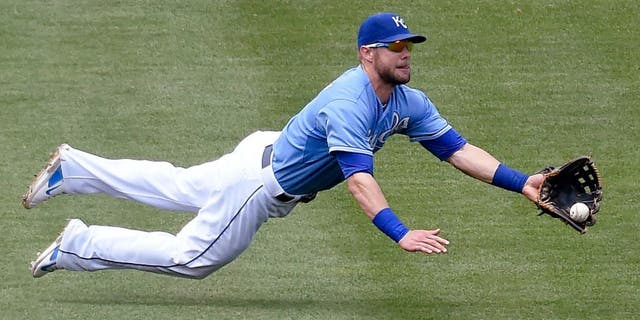 NEWYou can now listen to Fox News articles!
Royals outfielder Alex Gordon appeared in his first game action in 46 games on Sunday -- and he exceeded fans' expectations.
Gordon, who is working his way back from a groin injury he suffered on July 8, hit a two-run homer as the designated hitter for the Triple-A Omaha Storm Chasers on Sunday.
The four-time Gold Glove winner said he could play the field during Monday night's game, although Gordon doesn't want to rush anything.
"I'm excited, but at the same time trying to be as cautious as I can. I haven't tested it (his injured leg) in a game situation, so I wanna be smart but get my work in," Gordon told KCTV-5.
"Hitting's not that that big of an issue. It's more the first step. game situation, when that adrenaline kicks in, that quick burst or at the last second trying to make a diving catch or something like that's probably gonna be the toughest," Gordon shared.
Barring any setbacks, Gordon is expected to return to the Royals by the end of the month.
(h/t KCTV-5)