Alex Chambers fighting at UFC 191 for the same reason she always has - love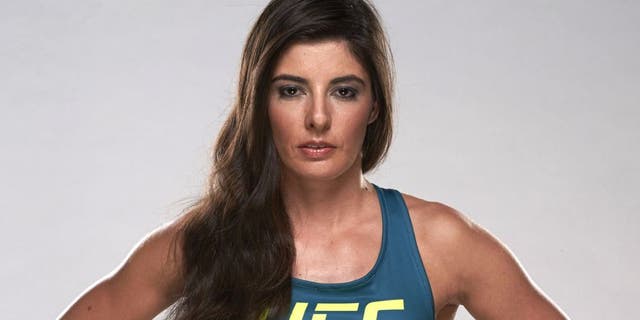 UFC strawweight Alex Chambers has had a passion for martial arts for as long as she can remember. "Astro Girl" competed in Karate from her youth but that original combat sport passion actually ended up causing a few speed bumps along the way once she discovered her next one - mixed martial arts.
A serious arm injury suffered in a Karate tournament initially kept Chambers from competing in MMA contests, which contributed to her relatively lart start in the sport, in her 30's. "It was difficult at the time," she tells FOX Sports on a recent afternoon before her upcoming UFC 191 fight against Paige VanZant Sep. 5 in Las Vegas.
"I had five operations on the arm whilst I was really keen to get an MMA fight. I couldn't because of the injury, for about four years or so. I trained on and off in between operations on this arm. I as really enjoying the training but couldn't actually fight until the arm full healed."
That frustration gave way to inspiration when Chambers traveled to Japan and trained with the legendary Megumi Fugui. Fuji encouraged Chambers to push forward in MMA, and the positive vibes from the top MMA fighter gave the New South Wales native a much-needed boost.
"I went to Japan in 2008-2009 and did some training with Megumi Fuju, who was one of the best MMA fighters, pound-for-pound, man or woman. That's someone who really inspired me to take my first real step into the sport," she remembers.
"I was able to finally get my first fight in 2010, after trying for a year or so, in Australia. After the first fight, the arm held-up and I knew it was something I definitely wanted to pursue and give my all to."
Chambers did indeed give her MMA dreams her all, after that, but they didn't necessarily include making a living from the sport. Had she not been able to make it to the big leagues in MMA, Chambers would have likely still been well-situated to make ends meet from some of her other skills and qualifications.
After all, the fighter has a double-degree in mechatronics engineering and could have chosen to go further in academics or in applied work. However, Chambers rose through the atomweight ranks and went all-in with MMA.
In fact, Alex has always had options in her life. Time and again, she's chosen fighting.
When she struggled to get fights booked or pay the bills, her commitment to the sport didn't change, however. She didn't look at fighting as something that interfered with her studies or even as something she could make a fortune in.
Alex simply looked at fighting the way she had always considered the martial arts - it was something she had to take part in. "I guess I always knew martial arts was going to be a big part of my life," she says.
"Whether it would be through running a gym, or coaching, or fighting, I always knew it was something I wanted in my life in a big way. So, no, it didn't interfere with my plans of pursuing further education, or physics. I made the decision to make it part of my life a long time ago."
Chambers believes her love of martial arts stems from her general love of learning. "With MMA you feel like you're constantly learning things," she explains.
"The more you learn, the more you realize that you don't much. There are so many little things involved in each component of MMA. I love to learn. I love learning new things, so it is fun for me."
Chambers had fun while she trained and competed in relative obscurity for little money, and she is having fun now, as she readies to take on one of the UFC's brightest new stars on a huge, international stage.
"When things got hard because I couldn't get fights, or didn't know what would happen with it all, they were still never that hard because I didn't ever really think of fighting as something I could potentially really make a career, per se, out of. It was just the same it had always been for me when I did Karate," she reasons.
"There was no money in that, but you did the training every day, because you loved it. You competed because you loved it. And, at the end of the day, you were just grateful to be doing something you love, to have that in your life. That's still the way I feel, now. I'm grateful to be doing what I love."