ALDS: Oakland Athletics Force Game 5 in Walk-off Win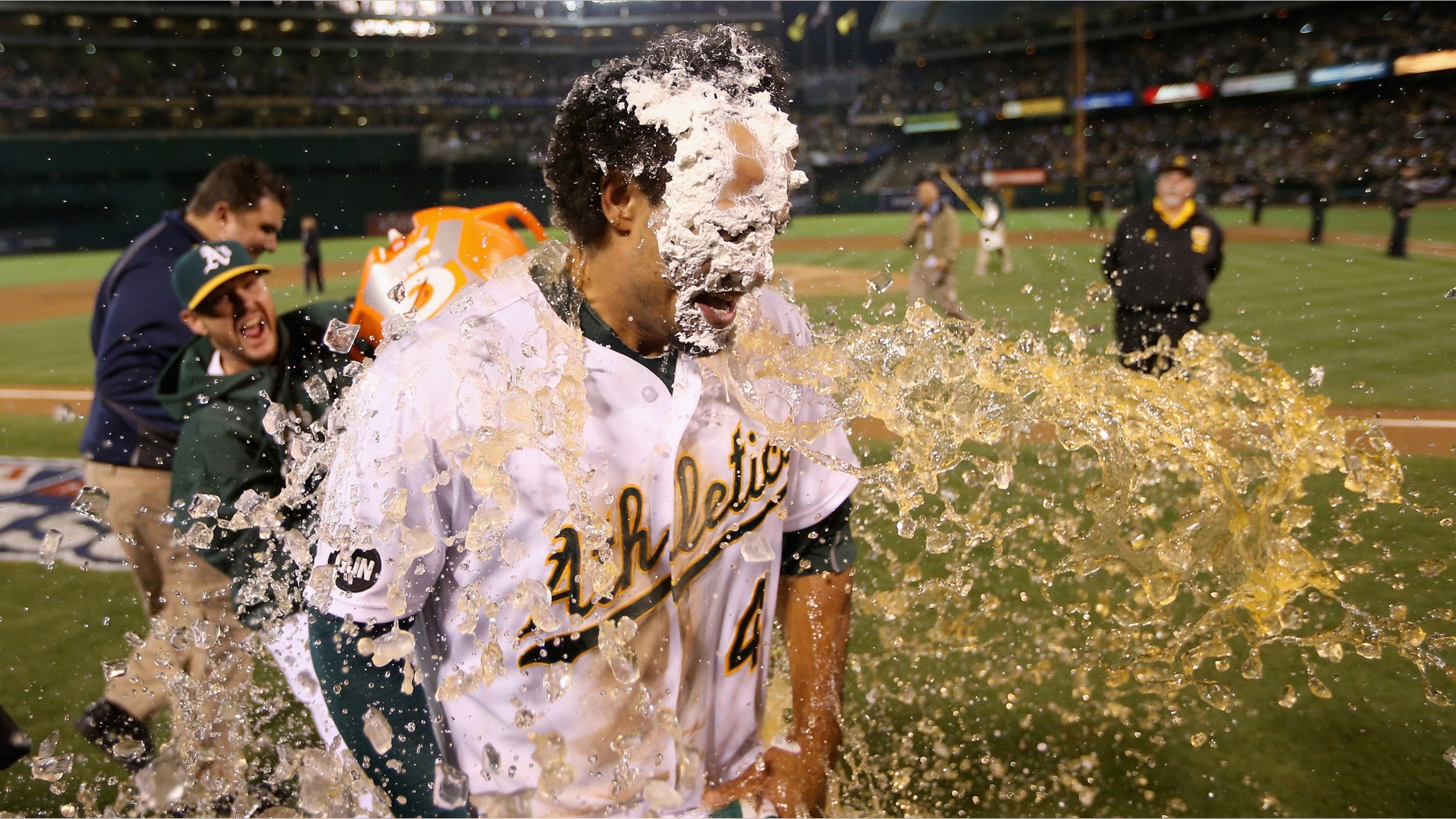 In a dramatic 4-3 victory, the Oakland Athletics rallied in the bottom of the ninth inning to defeat the Detroit Tigers and force a win-or-go-home Game 5.
Dog-piling onto one another, the Athletics showed the night's hero, center fielder Coco Crisp, some love by giving him a whipped cream pie in the face.
The Athletics turnaround began when Seth Smith hit a game-tying, two-run double off closer Jose Valverde in the ninth inning. But it was Crisp, who capped off Oakland's rally with a two-out RBI single that saved the A's from elimination for a second straight night.
Now, the A's will face Tiger's star pitcher Justin Verlander Thursday night.
"This club, we've been battling the whole year, giving 100 percent, and these walk-offs have been our MO this year," Crisp said of his teams league-leading 15 walk-off  wins in the regular and now postseason.
Josh Reddick led off the ninth with a single just under the glove of diving second baseman Omar Infante. Josh Donaldson followed with a double off the wall in left-center and both runners scored on Smith's double. Two outs later, Crisp lined a single and Smith scored easily when right fielder Avisail Garcia couldn't handle the ball.
That set off a raucous celebration near first base as the A's poured out of the dugout to mob Crisp, who received the now customary Oakland whipped cream pie. This marked the second time the A's erased a two-run deficit in the ninth inning to win a postseason game, the other coming in Game 5 of the 1929 World Series.
I'm hoping that the ending comes at the end of October. I hope there's a period at the end of the story. It's an unbelievable story.
Crisp ended three games with RBIs this season, tied for most in the majors. And like the others, this one ended with Reddick nailing him with a whipped cream pie during a postgame television interview.
"He's been our walk-off  leader all year," Reddick said. "Once we got into that situation, I think everybody in the dugout knew he was going to come through for us. Once we get one or two runners on with that situation we have a really good feeling that we're going to win the ballgame. He's been clutch for us in the ninth inning."
Ryan Cook retired four batters for the win.
The A's, who have the lowest payroll in baseball, need just one more surprising result to win their second postseason series since 1990. Rookie Jarrod Parker will take the mound in Game 5 on Thursday night against Verlander, the reigning AL Cy Young winner and MVP.
"That's why this is the greatest game of all," Tigers manager Jim Leyland said. "It looked like we were going to get it. We didn't do it. We didn't quite get the 27 outs, that's part of the game. You get tested all the time in this game. And this is a good test."
The Tigers looked to be in prime position to advance to their second straight ALCS and have a rested Verlander for Game 1 when they took a 3-1 lead into the ninth behind a strong start from Max Scherzer and a homer from Prince Fielder.
Now the A's are one win away from repeating last week's three-game sweep of Texas that gave them the AL West title on the final day of the regular season. After losing the first two games in Detroit, the A's won 2-0 in Game 3 and are looking to become the eighth team to rally from two games down to win a best-of-five series.
"There's no ending yet," Oakland closer Grant Balfour said. "I'm hoping that the ending comes at the end of October. I hope there's a period at the end of the story. It's an unbelievable story. It just keeps going. And we're going to take it out there tomorrow and give it everything, just like we have the last two games. If we can do that then I like our chances."
Scherzer, who was dealing with shoulder, deltoid and ankle injuries late in the season, looked in top form against the A's. He allowed just one baserunner in the first four innings and struck out seven of the first 15 batters he faced.
The A's finally got to Scherzer for an unearned run in the sixth. Crisp reached when Fielder misplayed a hard grounder to first base into a two-base error. Crisp advanced on a wild pitch and scored on Stephen Drew's double to right-center. But the A's ran themselves out of a potential big inning when Drew was easily thrown out trying to stretch the hit into a triple.
Octavio Dotel and Phil Coke both retired a batter to get out of the sixth and Al Alburquerque pitched a perfect seventh in his first appearance since his memorable kiss of the baseball on a comebacker by Yoenis Cespedes in Game 2. Joaquin Benoit escaped a first-and-second jam in the eighth by striking out Brandon Moss, but Valverde couldn't close it.
"This is the toughest moment in my whole career," Valverde said. "I had everything. These guys hit it. There's nothing I can do."
Based on reporting by the Associated Press.
Follow us on twitter.com/foxnewslatino
Like us at facebook.com/foxnewslatino