ALDS Game 5 on the road? Rangers have been here before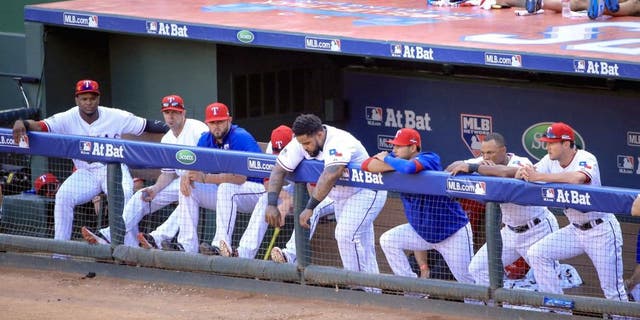 NEWYou can now listen to Fox News articles!
The Texas Rangers were unable to lock up the ALDS in Arlington, dropping consecutive games to the Toronto Blue Jays at Globe Life Park to even the series at two games apiece and set up an all-or-nothing Game 5 in Toronto on Wednesday.
After Monday's defeat, it was hard not to draw parallels between their current series and the 2010 ALDS with the Tampa Bay Rays. In that matchup, the Rangers won the first two games at Tropicana Field, then lost two in Arlington only to seal the deal back in St. Petersburg in Game 5 behind Cliff Lee.
"I didn't want to think about it, but if we can do it in 2010, why not 2015," shortstop Elvis Andrus told MLB.com's T.R. Sullivan after Monday's Game 4 loss.
Needless to say, with ace Cole Hamels on the mound for Game 5 the Rangers like their chances. He was the one that pitched them to the AL West title on the final day of the regular season, after all.
"Look, we're still playing," manager Jeff Banister said to Sullivan. "We've got another game to play. I like the fact that we've got a pretty special starter going for us also. He also energizes this ballclub. I believe that this is still an energized, confident group of players that -- and again, I mean, we've been here before. We've been in this very similar situation."
Calling to mind his #NEVEREVERQUIT mantra that has been around his club all season long, Banister commended the Rangers' fight: "There's no quit in this ballclub. No quit in any one of those players in that locker room. We'll get on a plane tomorrow and travel to Canada, and we'll play a baseball game the next day. And I'm sure that however it turns out, that this is a group of players that will play as hard as they can play for each other. That's why you can never count them out."
Team leader Adrian Beltre, meanwhile, is just as confident in his team's ability to rise to the occasion. "We knew that we were facing a really good team in the Jays, and their offense is really good," he told Sullivan. "Even though we lost the last two games, we're still confident. We know we have the team to do it, and we've gone and won there twice, so why can't we do it one more time?"
Will they or won't they? They'll find out on Wednesday.