Albuquerque declares November 'Holly Holm month' in honor of new UFC champion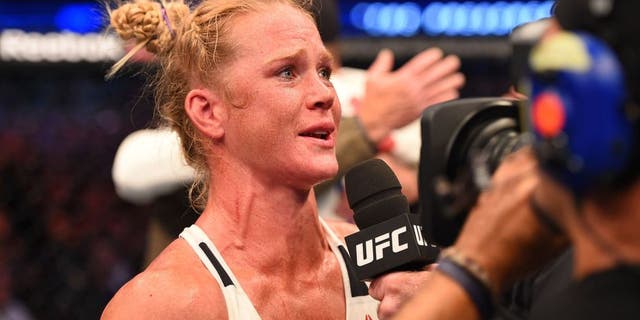 NEWYou can now listen to Fox News articles!
Earlier this week, former UFC light heavyweight champion Jon Jones -- a teammate of Holly Holm -- said that the new bantamweight champion is so beloved by her fellow Albuquerque residents that it would take her 45 minutes to go to the store to get milk because of all the attention supporters give her. The fighting city's love-affair with their boxing and MMA champion will continue as City Councilor Dan Lewis recently signed a proclamation naming November Holly Holm Month in Albuquerque.
The proclamation names Holm as a "dedicated and talented Albuquerque athlete since a young age," who has also "beaten incredible odds," and served as "gifted ambassador." All that is true and it's nice to see an athlete being celebrated and recognized in her hometown.
Holm, of course, shocked the world with one of the biggest upsets in MMA history Saturday in Melbourne, when she knocked out defending bantamweight champion Ronda Rousey in the second round of UFC 193. The former two-time female Ring Magazine fighter of the year is now the first athlete in history to win true world titles in both boxing and MMA.
It has been a heady year for "The Preacher's Daughter." She made her UFC debut just nine months ago, in UFC 184, earing a split-decision victory over Raquel Pennington.
After just one more decision win, she found herself in a rushed UFC 193 main event with the most dominant fighter in the sport -- Ronda Rousey. Few gave Holm a shot, but she ended up dominating the defending champion en route to a second-round clean KO.