Albert Pujols grows legacy, hits 590th career home run in win against Toronto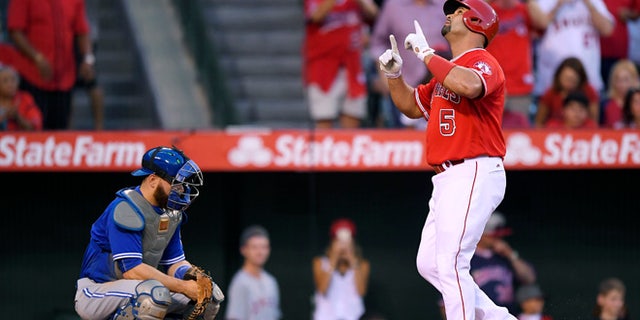 NEWYou can now listen to Fox News articles!
ANAHEIM, Calif. (AP) – Even in a lost season for the Los Angeles Angels, Albert Pujols has still managed to grow his legacy.
Pujols hit his 590th career home run and the Angels beat Toronto 6-1 Saturday night, dropping the Blue Jays into a tie for the top two AL wild-card spots.
The Blue Jays and Baltimore are even in the playoff race. Seattle, Detroit and Houston are all three games behind in the wild-card chase.
Pujols hit his 30th homer. He joined Hank Aaron, Barry Bonds and Alex Rodriguez as the only players to reach 30 home runs in at least 14 seasons.
Ricky Nolasco (6-15) tossed six shutout innings as the Angels ended a five-game losing streak. It was Nolasco's first win against Toronto and he has now recorded wins over every major league team but two — the Marlins and Indians.
"They pressured Ricky tonight," Angels manager Mike Scioscia said. "But he definitely made some pitches and got some big outs. I think he used all of his pitches well."
Nolasco put the leadoff batter on base in five innings but was able to make the necessary adjustments in order to pitch out of jams.
"It's a very tough lineup to face and I didn't want to face them with guys on base right from the get-go, but that's how it was," Nolasco said.
"Pitch count ran up a little bit. They were fouling of a lot of pitches and laying off a lot of good pitches just because I had to go, basically, straight to work, no get-me-overs or anything that because runners were on base the whole game."
Francisco Liriano (7-13) allowed four runs — two earned — in six innings. Manager John Gibbons thought the outing was one of his stronger ones, but three errors proved costly and left Liriano laboring.
The biggest mistake Liriano made was a slider to Pujols. Ninth on baseball's all-time home run list, he hit a solo drive into the left-field seats in the second.
"He's got a good fastball, he's not throwing anything straight and he's got a nice changeup and he's got a slider," Gibbons said. "Against a predominantly right-handed hitting team, he pitched good enough to win. We just couldn't score."
Mike Trout got two hits and his 90th RBI and Kole Calhoun had two hits and scored twice for the Angels. The Angels capitalized on three infield errors, scoring more than five runs for only fourth time this month.
Edwin Encarnacion scored Toronto's run in the eighth on pinch hitter Melvin Upton Jr.'s sacrifice fly. The Blue Jays stranded 12 and were 1 for 12 with runners in scoring position.