Alabama's T.J. Yeldon-led backfield should take pressure off whoever wins starting QB job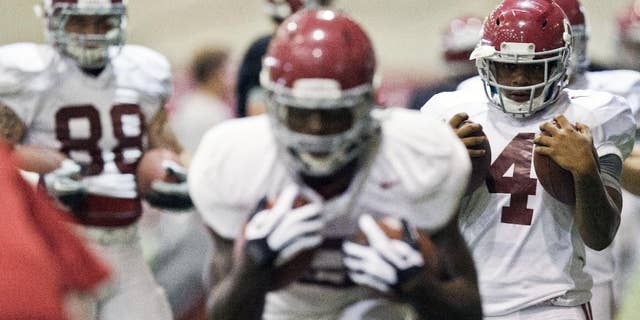 TUSCALOOSA, Ala. – Whoever emerges as Alabama's starting quarterback has a built-in safety net in the backfield.
When in doubt, the second-ranked Crimson Tide's Jake Coker or Blake Sims can always hand off to T.J. Yeldon. Or Derrick Henry. Or perhaps Kenyan Drake.
That tailback trio once again gives Alabama an enviable backfield when the season opens Saturday against West Virginia in the Georgia Dome, and it's an especially nice luxury while the quarterbacks build experience.
"I think all three of those guys are guys we definitely want involved in the game that have playmaking ability," Alabama coach Nick Saban said. "We're very confident that all three of them can make a significant contribution to our team in some kind of way this year."
The only change from recent years in the Bama-to-NFL chain of Trent Richardson, Mark Ingram and Eddie Lacy is the Tide has three, not two, proven tailbacks.
There's Yeldon, a two-time 1,000-yard rusher. Then there's the bulldozing former top recruit Henry who effectively had his coming out party against Oklahoma in the Sugar Bowl and the speedy but sometimes-overlooked Drake.
Henry's emergence has pushed Drake to third-team status despite a 694-yard, eight-touchdown season. It remains to be seen how the carries are divvied among runners with different styles who have all had some success.
"All of those guys are unique, all those guys are great," Tide receiver Amari Cooper said. "They have qualities that I haven't seen out of many running backs. Kenyan Drake is like a cat to me, very slippery runner. You can't turn your head when he's running the ball because he's bound to make the big play at any time.
"T.J. is a very explosive player. He makes one cut and he's already 10 yards up the field. And you have Derrick Henry, who can break 10 tackles in one play. All of them are unique and nice players to watch."
Yeldon is the leader of the group after rushing for 2,343 yards and 26 touchdowns despite occasional fumble problems. No other Tide player has rushed for 1,000 yards in each of his first two seasons.
Yeldon is also soft-spoken and doesn't speak to reporters regularly.
But, offensive coordinator Lane Kiffin said, "that guy goes as hard as anyone on our team and just wants to be great and just wants to learn."
"He's just a guy who's really quiet," Kiffin said. "He's not looking for accolades. He's not looking for everybody to praise and just help him out. I don't know how to phrase it, but he's just a guy who's so humble about everything he's been given. He's not really looking for accolades. He lets his playing do the talking."
Henry was already a hyped player when he arrived in Tuscaloosa as the all-time leader among high school rushers. The 6-foot-3, 241-pounder sent the fan expectations soaring even higher when he ran for a 43-yard touchdown and caught a 61-yard scoring pass in New Orleans.
However, he finished with a modest 35 total carries even if he averaged 10.9 yards per shot so the hype was mixed with a dose of humility.
"Last year humbled me a lot," Henry said. "It gave me the fuel to go into this season, this fall camp, working hard. I just tune it out, just come here and go to work."
Then there's Drake, who has averaged 7.3 yards per carry with 13 touchdowns over the past two seasons.
All three had carries of 50-plus yards last season.
"Derrick has that power," fullback Jalston Fowler said. "He's just a horse — a mad man back there. T.J.'s got quickness and speed. Drake's got quickness and speed. Those guys, you can put any one of them back there and they can break for a big play."
___
Follow John Zenor on Twitter: www.twitter.com/jzenor