Alabama's odd couple, Nick Saban and Lane Kiffin, producing un-Tide like numbers so far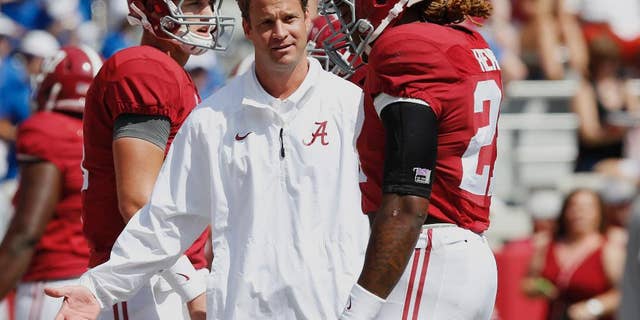 TUSCALOOSA, Ala. – The brash Lane Kiffin has brought more pass and flash to an Alabama team that has been wildly successful with a bruising formula that relied on the ground game and defense as the primary ingredients.
Nick Saban has turned over his old-school playbook to the often outspoken former head coach used to leading his own teams, embracing the trend toward more wide-open offensive attacks in the process.
It was a bold, maybe even risky, hire by Saban — setting up a potential collision of massive egos.
Right now, it looks like a winning move.
The third-ranked Crimson Tide (4-0) is piling up yards in record numbers. And the 62-year-old Saban will happily say he told you so to anybody who was skeptical about his hiring of Kiffin, 39.
"I mean, if I did what you all thought when I hired the guy, he wouldn't even be here," he told reporters. "Maybe that was the assumption because nobody thought it was a good hire that all of a sudden something bad — I don't know. But I thought it was a good hire. Nobody else did. Now, I got beat up like a drum for doing it and now all of a sudden it's great."
The numbers certainly are impressive.
The Tide, off this week before visiting No. 10 Mississippi, has never produced so many yards (2,377) through the first four games of a season. That includes a 672-yard windfall against Florida, the most allowed in the Gators' 108-year history. The Tide's first offensive play was an 87-yard reception for tailback Kenyan Drake.
Welcome to life in the passing Lane, Alabama.
Amari Cooper is leading the nation in receiving and is already two catches shy of his total from last season, even with a first-year starter at quarterback in Blake Sims. And old-school Bama trails only no-huddle teams Texas A&M and Mississippi in the Southeastern Conference in passing yards per game.
The offense definitely has a different look, though Saban — who has spoken out against hurry-up offenses — is adamant his own philosophies remain unchanged. He feels he finally got a coordinator who is willing to open things up more like current Florida State coach Jimbo Fisher did at LSU.
Kiffin took over after Doug Nussmeier left for Michigan.
"I've been begging the offensive coordinators around here to open it up since I've been here," Saban said. "Jimbo Fisher was the best offensive coordinator I've ever had that never did what I wanted to do. And everybody wants to run the ball. Now, we've always had a very good team to run the ball. And we had a very good defense, and it was really smart to play the way we played.
"Now, we have more skill players that are good perimeter players and I think we are doing what we need to do on offense to take advantage of that. Lane does a really, really good job of taking advantage of what players can do."
Kiffin also has been good at rubbing some fans and peers the wrong way.
His boisterous, sometimes contentious approach has helped him land a succession of big head coaching jobs, but they all included volatile tenures and messy endings: the NFL's Oakland Raiders, one season at Tennessee, and Southern California, where he was fired midway through season No. 4 following a lopsided loss to Arizona State a year ago next week.
Kiffin was a huge fan of a young, swaggering Steve Spurrier — known to throw jabs at opponents — and Kiffin adopted more than the head ball coach's sideline visor.
During his time at Tennessee he didn't pull punches after playing Alabama and Saban, dubbed by Forbes magazine as the most powerful coach in sports.
Kiffin's gripes after that game included a suggestion that he feared referees might throw a "magical flag" on his Tennessee team if the Vols tried to get any more yards before a failed field-goal attempt to beat the Tide.
Kiffin ran afoul of everyone from Urban Meyer, hinting that the then-Florida coach was cheating in recruiting, to SEC Commissioner Mike Slive during his brief stay at Tennessee in 2009.
That's not Saban, who for all his intensity, is always publicly complimentary of his peers.
Still, he gave Kiffin a chance to rebuild his star-crossed career. And Kiffin appears to have checked his ego at the door.
"He calls it like he sees it," said Ed Orgeron, a former USC assistant who still talks to Kiffin once a month or so. "But he also knows there's a chain of command. I'm sure he's very respectful."
Their different public demeanor aside, Kiffin brings some of Saban's ferocity to the sidelines when it comes to winning.
"He's laid back but he's fiercely competitive," said Greg McElroy, an SEC Network analyst who was Saban's quarterback on the 2009 national championship team. "He's laid back probably six days a week but on Saturday there's no messing around with Lane."
McElroy said that's one reason the Saban-Kiffin relationship is working.
He believes Kiffin brings the same aggressive approach to offense that is a trademark of Saban's defenses. His initial reaction to Kiffin's hiring was surprise.
"Then literally after about 15 minutes, I'm like, 'That makes all the sense in the world to me,'" McElroy said. "Because frankly you have a guy in Lane Kiffin who is trying to rebuild his reputation so to speak after a couple of bad experiences not only at USC but at Tennessee as well. But the one thing that he's always been able to do is produce offensively."
That's holding true in Tuscaloosa.