Alabama's Derrick Henry once again named SEC Offensive POTW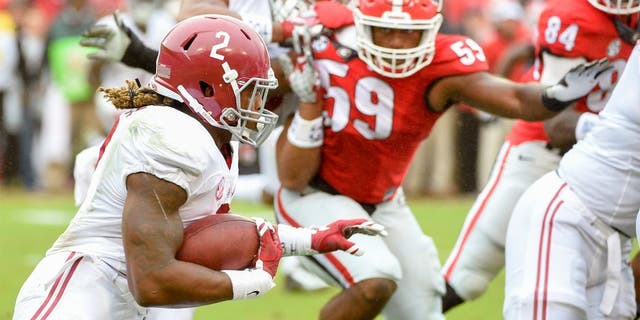 NEWYou can now listen to Fox News articles!
Who's the top Dawg now?
Alabama's marquee offensive player once again fueled his team to victory as Derrick Henry won his second SEC Offensive Player of the Week award after leading the Tide to a 38-10 win over Georgia.
Henry's 30-yard touchdown broke the game open for the Tide and gave them a lead they would never surrender in the biggest conference game of the week.
• Junior running back Henry set a career-high with 148 yards and a touchdown.

• The game captain matched the Alabama record for consecutive games with a rushing touchdown at 10.

• Set a career-high with 26 carries.

• Broke free for a touchdown run of 30 yards.

• Had four rushes of 10 or more yards while accounting for five first downs.