Alabama scores on impressive toe-tap touchdown after review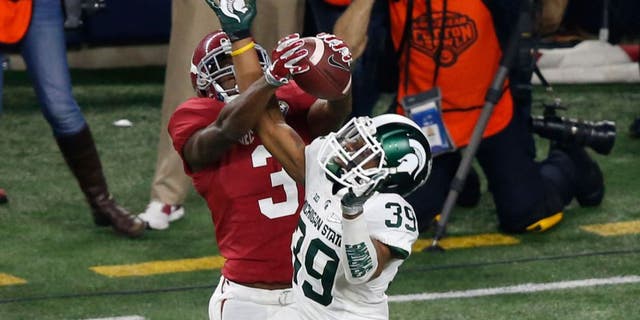 Alabama's outstanding true freshman receiver, Calvin Ridley, is making himself a household name thanks to his efforts in the 2015 Cotton Bowl against Michigan State. First it was the 50-yard reception to set up the first score of the game, which Ridley followed up with an impressive toe-tapping touchdown in the end zone.
The play was initially ruled an incompletion. But upon further review, the call was reversed and ruled a touchdown. Despite the perfect coverage, Ridley was able to concentrate while falling out of bounds, getting two feet in the field of play and securing the football.
Not bad considering Ridley was just finishing up high school ball just more than a year ago.
The touchdown pushed the Tide's lead to 17-0 in the game, and they haven't really looked back.