Alabama releases first depth chart of the season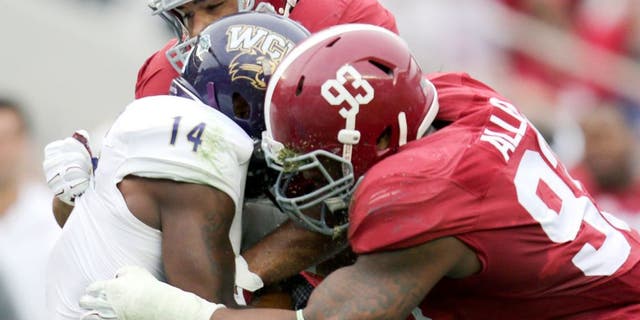 Leading up to their season opener in Cowboy Stadium, Alabama has released their first depth chart of the season. Although no starter has yet to be named at the quarterback position, most other positions have been settled heading into the game against Wisconsin Saturday night.
It appears reports indicating Alec Morris and Cooper Bateman as potential starters at quarterback were accurate, as the two and Jacob Coker are locked in a battle for the starting role. With LSU and Ole Miss taking advantage of Monday's press conferences and naming their starting quarterbacks, it appears likely the Tide will indeed play multiple players under center in the opener.
Offense:
QB - Jacob Coker or Cooper Bateman or Alec Morris
RB - Derrick Henry, Kenyan Drake, Damien Harris
WR-X - Robert Foster or Calvin Ridley, Deionte Thompson
WR-Z - ArDarius Stewart, Daylon Charlot or Cam Sims, Derek Kief
WR-H - Richard Mullaney or Chris Black
TE - Dakota Ball, Hale Hentges
TE-H - O.J. Howard or Ty Flournoy-Smith, Michael Nysewander
LT - Cameron Robinson, Lester Cotton, Korren Kirven (Questionable)
LG - Ross Pierschabacher, Dallas Warmack, Isaac Luatua
C - Ryan Kelly, JC Hassenauer, Brandon Kennedy
RG - Alphonse Taylor or Bradley Bozeman, Richie Petitbon
RT - Dominick Jackson, Brandon Greene, Matt Womack
Defense:
DE - A'Shawn Robinson, Jonathan Allen, D.J. Pettway
NG - Darren Lake or Daron Payne, Joshua Frazier
DE - Jarran Reed, Dalvin Tomlinson, Da'Shawn Hand
SAM - Dillon Lee, Rashaan Evans, Christian Miller
MIKE - Reggie Ragland, Shaun Dion Hamilton, Walker Jones or Adonis Thomas
WILL - Reuben Foster, Keith Holcombe
JACK - Denzel Devall, Ryan Anderson, Tim Williams
CB - Cyrus Jones, Bradley Sylve, Maurice Smith
CB - Marlon Humphrey, Tony Brown or Minkah Fitzpatrick
SS - Eddie Jackson, Ronnie Harrison, Shawn Burgess-Becker
FS - Geno Smith, Jabriel Washington, Laurence "Hootie" Jones
Star - Minkah Fitzpatrick, Tony Brown, Maurice Smith
Special Teams:
PK / KO - Adam Griffith, JK Scott
P - JK Scott
PR - Cyrus Jones, Chris Black, Richard Mullaney
KOR - Kenyan Drake and ArDarius Stewart