Alabama OT Cam Robinson arrested, faces felony weapons charge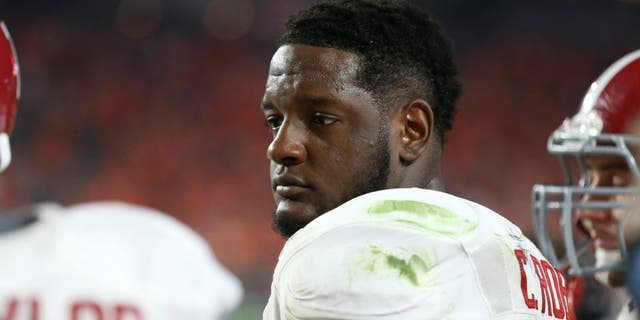 NEWYou can now listen to Fox News articles!
Two University of Alabama football players -- junior offensive lineman Cameron Robinson and junior defensive back Laurence Hootie Jones -- were arrested early Tuesday morning in Monroe, La.
According to the Ouachita Parish Sherriff's office, Robinson -- projected by many as a top-10 pick in the 2017 NFL Draft -- faces a felony charge of illegal possession of a stolen firearm and a misdemeanor charge of possession of a controlled dangerous substance. He also was charged with illegal carrying of a weapon in the presence of narcotics. Jones faces the same two lesser charges as Robinson. Both players were booked just after 3:30 a.m.
According to the police report, an officer approached the two players while they were in a parked car after hours at a local park and detected the smell of marijuana. After they were removed from the car, the officer found a bag of marijuana and two handguns -- one of which was stolen -- inside the vehicle.
The 6-foot-6, 327-pound Robinson was an all-SEC first-team selection last season and is a two-year starter. Jones has played in 16 games over two seasons as a backup for the Crimson Tide.