Alabama is lucky to be here -- one snap in a different game helped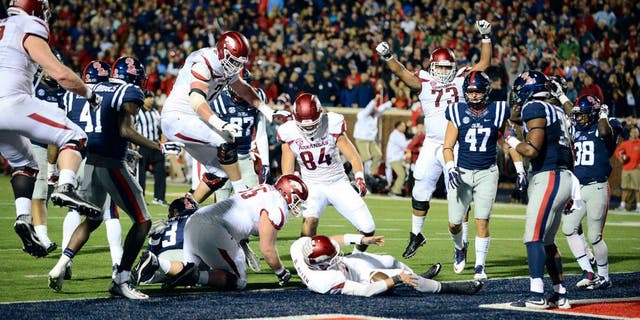 Alabama will be playing Clemson in the national title game on Jan. 11 in Glendale, Ariz.
But if one snap, ONE SNAP! -- in a Nov. 7 game not even involving the Crimson Tide -- turned out differently, 'Bama wouldn't have been playing in Thursday's semifinal.
If Arkansas failed on a fourth-and-25 play in overtime (see video below), Ole Miss would have won that game, tied Alabama with a 7-1 SEC record, and won the division tiebreaker based on its 43-37 head-to-head win in Tuscaloosa, Ala., to represent the SEC West in the conference title game vs. Florida.
Just before the Razorbacks' crazy fourth-down play in Oxford, Miss., the Rebels scored on their first possession in OT for a 52-45 lead. After a sack sandwiched between two incomplete passes, Arkansas faced fourth-and-25. QB Brandon Allen completed a 15-yard pass to Hunter Henry, who seconds before being tackled -- WHICH WOULD HAVE ENDED THE GAME -- flung the ball backward into a crowd.
Arkansas running back Alex Collins picked it up off a bounce around the 42-yard line and scampered 31 yards for the first down. But he FUMBLED! If Ole Miss recovered, Game OVER! Unfortunately for the Rebels, Razorbacks wideout Dominique Reed came up with the loose pigskin.
Arkansas scored two plays later and opted to go for the win by way of a two-point conversion. Miss it and Ole Miss, not 'Bama, would eventually play in the SEC title game. Make it and Ole Miss is looking up at 'Bama in the standings.
What happened?
Arkansas' Allen threw an incomplete pass on the attempt. Game OVER, right? WRONG!
Ole Miss' Marquis Haynes was called for a facemask, giving Arkansas another chance. This time, Allen ran it in for a 53-52 victory.
Imagine if Ole Miss had won. Sure, the Tide only would have had the one loss, but it would have been extremely unlikely they make the final four without winning/playing in the SEC championship game. (FYI: Ole Miss' other SEC loss was to Florida on Oct. 3.)
Nick Saban and the Crimson Tide should always be thankful.
As for another snap that shook up the final four: Remember the wild finish in Michigan State-at-Michigan on Oct. 17?
With 10 seconds left in the Big House, if the Wolverines don't mishandle a snap on a punt with 10 seconds left that led to a Spartans' winning TD as time expired, Ohio State would have represented the Big Ten East in the conference championship game. And MSU never would have had the chance to prove itself to earn a semifinal berth.
How Buckeye nuts is that?