AL oddity: A's Davis pitches in blowout, walks Orioles' pitcher Garcia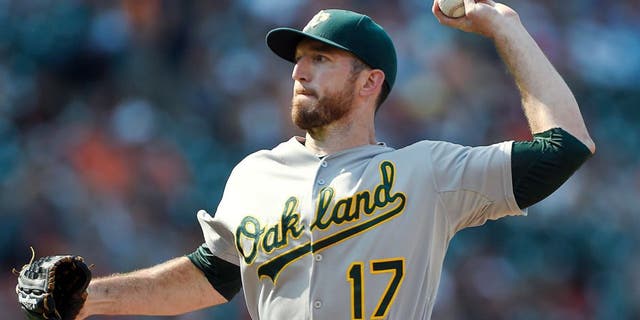 Something exceedingly strange happened at Camden Yards on Sunday afternoon: Oakland Athletics first baseman Ike Davis, pitching in relief with the A's on the wrong side of a 18-2 score, walked Baltimore Orioles relief pitcher Jason Garcia.
Yep, that's right - an American League position player walked an American League relief pitcher (as Garcia had come in when the O's conceded the DH to give their stars a breather in the late innings).
Not only that, but Davis pitched a scoreless inning AND picked up his first career strikeout. Check it out:
This was Davis' second pitching appearance this season for the A's, and his second such scoreless frame.
If you're looking for a statistic that more or less shows just how difficult things have been for the last-place A's in 2015, it's this: Davis, with his two innings of work, has thrown more innings this season than 2014 All-Star closer Sean Doolittle (who has just one, though he's expected back sometime next week).
(h/t MLB.com)