AJ McCarron: 'Unbelievable' to be back on the field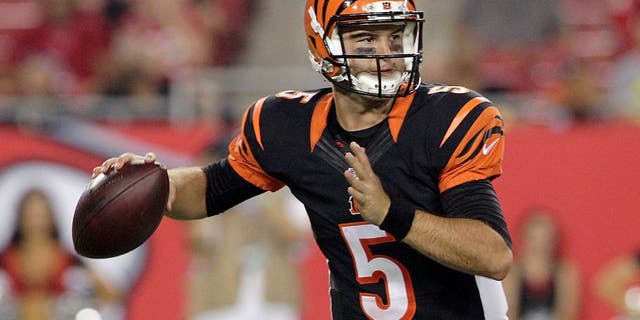 AJ McCarron finally got to take the field in a Bengals uniform during Monday night's 25-11 preseason loss in Tampa Bay.
Much of the crowd had already departed when McCarron took the field for the first time in the third quarter, but all the second-year quarterback was just happy to be out there for the first time since the Sugar Bowl with Alabama. McCarron spent nearly his entire rookie season recovering from a shoulder injury and never saw the field after returning in December. He also was scratched from last week's preseason opener with an upper body injury.
"It's definitely a long wait, something I miss doing," McCarron said via the Cincinnati Enquirer. "It just felt good being out there with the guys in a game atmosphere and getting hit again and just having the feel of the game around you is just something you can't describe. It's unbelievable."
It took roughly a quarter-and-a-half for McCarron to show what he can do as the Bengals managed seven offensive snaps in the first 22 minutes of the second half. Finally, trailing 25-3 with 7:43 left, McCarron guided the offense on an 8-yard scoring drive with the Buccaneers in prevent mode, completing eight of his 10 pass attempts. McCarron finished the game 11-of-15 for 97 yards.
"We got in a good rhythm and put together a good drive, which was good for us and good to see the guys get that mojo back in them and some excitement," McCarron said. "We had started with a positive play and just kept it going from there. It was really good to see."
McCarron's play was apparently enough for the Bengals to feel confident with him as their backup, as the team announced the release of backup quarterback Josh Johnson on Tuesday afternoon.
h/t: Cincinnati Enquirer