AJ Allmendinger turns Chase Elliott, brings out the Big One at Talladega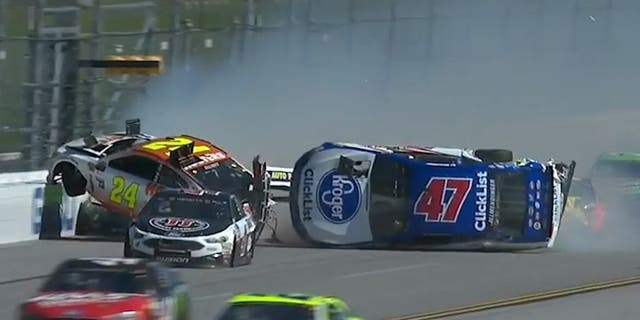 Whenever the Monster Energy NASCAR Cups Series races at the fast at treacherous Talladega Superspeedway, The Big One is always a concern. And Sundays GEICO 500 was no exception.
With just 20 laps left in the race, AJ Allmendinger got into the back of second-place Chase Elliott as the two were trying to get to the front and pass leader Kyle Busch.
The contact, which occurred on the backstretch, sent Elliotts car into the air immediately, and Allmendingers car rolled over, after getting hit from behind.
The end result was that a total of 18 cars got caught up in the incident, including Austin Dillon, Trevor Bayne, Danica Patrick, Matt Kenseth, Joey Logano, Brad Keselowski, and others.
Afterward, the drivers were mostly philosophical about it.
Its just Talladega. Its just part of it, said Dillon.
Im fine. It kinda sucks, but it is what it is, said Logano. Its just superspeedway racing.
I barely tapped him (Elliott) and tried to get off him but by then it was too late, said Allmendinger I hate it that it happened. Its Talladega.
He just apologized. I dont know that it was his fault, per se, said Elliott of Allmendinger.
.