Aikman thinks either Manziel or RG3 will be in Dallas as a backup next season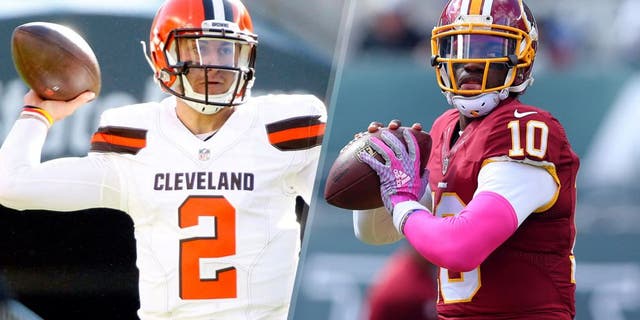 Former Cowboys quarterback Troy Aikman believes that owner Jerry Jones will bring in Johnny Manziel or Robert Griffin III (if either becomes available) as Tony Romo's backup.
Via SI.com:
"I believe, as I sit here today, either Johnny Manziel or Robert Griffin III will be in Dallas as a backup," Aikman said.
The Cowboys won just one of the 13 games that a quarterback not named Romo started for them in 2015. After struggling through the season with low-risk, low-reward quarterbacks like Brandon Weeden, Matt Cassel and Kellen Moore, it makes sense that Jones would want to take on a risk like Manziel or RG3.
Although both Manziel and RG3 are currently under contract with the Browns and Redskins, respectively, both teams are more likely than not to move on from their former first-round draft picks this offseason.
Manziel carries just a $2,249,617 2016 salary cap number, per OverTheCap, but he may have worn out his welcome in Cleveland thanks to his inability to stay out of trouble off the field. If the Cowboys are to acquire Manziel, it will likely be via trade. The Browns don't have much leverage, but a naturally talented quarterback with a low cap number can draw a late-round draft pick in return.
The route for the Cowboys to acquire RG3 would be different. The Redskins have the option to pick up RG3's $16.3 million fifth-year option, but they will almost definitely decline that option. RG3 has already left the team with a parting note, and when he is released, the Cowboys will have the option to sign him as a free agent.
It's anyone's guess what direction the Cowboys might go, but if they decide on one of these two options, there a few factors working in Manziel's favor. Manziel is the cheaper option, he displayed improved pocket-passing skills in 2015 and he was a pre-draft favorite for Jones.
Heading back to Texas is probably not the best way for Manziel to fix his off-field issues, but don't tell Jones that. The confident Cowboys owner believes that he can fix almost anyone who is looking for a second chance -- see Greg Hardy -- and Manziel or RG3 might be next in line.