Ahman Green thought the Packers were 'dead in the water' at 4-6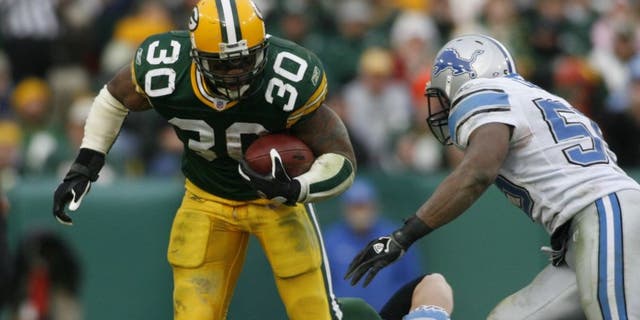 NEWYou can now listen to Fox News articles!
This is the latest in FOX Sports' Where Are They Now NFL series that runs each Wednesday during the NFL season.
THEN: The Packers' all-time leading rusher, Ahman Green spent eight total seasons in Green Bay in the 2000s, and rushed for 8,322 of his 9,205 career yards and 54 of his 60 career touchdowns while with the team. A four-time Pro Bowl selection, Green led the NFC in rushing in 2003, and between 2000 and 2004, he rushed for more total yards than any other player in the NFL. Green also helped the Packers to the playoffs five times and was inducted to the Packers Hall of Fame in 2014.
NOW: Green, 39, still lives in the Green Bay area, where he runs D1 Sports Training. Green is also a regular on local radio and TV and is a spokesperson for the Greater Wisconsin chapter of the Alzheimer's Association. In addition, he is an avid gamer and comic book collector and recently got into acting, making an appearance in the 2016 blockbuster "Batman vs. Superman." He also made his stage debut in 2016 in the Sheboygan Theatre Company's production of "Lombardi".
ON THE PACKERS' EIGHT-GAME WIN STREAK: "I remember, as a player, having a rough season the '03 season, a tough start, and within the locker room we looked amongst ourselves, to the left, to the right, and we knew that our teammates had our back. And I started to see that in the games. Now I'm not able to see the practices (this year), but I'm assuming that in practice, in meetings, that's what the players did. Because everyone was on them, saying they're dead in the water, including myself. And while Aaron (Rodgers) had put that statement out saying they could run the table, I was looking more at their actions, and the actions in those first two victories told me that these guys are on a mission to at least get into the playoffs. And then what any football player knows about January and February is that it's a whole new season. It doesn't matter if you were 7-9 and got into the playoffs, like the Seahawks back in 2010, or if you go 16-0. Everybody is 0-0, it's a new life, and you can shrug off what was going on in September, October, November and focus on finishing the new season undefeated."
ON AVOIDING A LETDOWN IN THE NFC CHAMPIONSHIP: "In this locker room a few of them have been down that road: Aaron, Clay (Matthews), Julius Peppers. So the older guys know what it feels like and know what it takes. Because when you first hit the playoffs, it just seems like a hard, uphill battle every game. It's like, 'Oh my God, the Super Bowl seems so far away.' But the guys in the locker room have that experience to say, 'You know, all we need to do is this.' And that's where they're at. And if Aaron's not saying it verbally, he's saying it with his actions, his play. Clay's the same way -- watching film, being more precise. Because right now, everyone on the football field is a great athlete. It's the small details, finding out what's something you can do fundamentally better than the next guy. Because you're not going to shut down a Julio Jones, just like you're not going to shut down an Aaron Rodgers. It's about finding that one play that you need to win, just like we saw last week against Dallas."
ON THE PACKERS' ALL-TIME RUSHING RECORD: "It's a personal, because my dad grew up in Louisiana and Jim Taylor was his running back as a kid, watching Jim Taylor play at LSU. So he told me that story, how he grew up watching Jimmy play, and how he was a big fan of his, and how now his son is about to break his idol's record. And to hear my dad say that meant a lot, that he's proud of me being right there -- and at that time I hadn't broken the record, but I was within 50 yards of it, when he made that statement to me in 2006. Then he passed away in October of 2007, and I was a Texan then, but that statement rang long in the back of my head, and I knew I was going to break that record. I knew I was going to somehow be back in a Packers uniform to break that record, and that's what I did in the 2009 season, against Tampa Bay. Even though it was a loss, for me it was a win, because it was something my dad was looking forward to, and he was watching from above."
ON HIS INTERESTS AWAY FROM THE FIELD: "It's always 'Oh my God, really? I didn't know that,' but I look at it just like me being me. I have done the things I've do since I was a kid -- play video games, play sports, go to movies, read comic books -- just like anyone else. I wasn't just all into football and baseball and basketball. I was loving "Batman" when I was 8 years old, 9 years old, and it just grew. And I was always watching TV, watching actors act, and in the back of my head, just like I watched Michael Jordan and watched Bo Jackson and Jerry Rice, Steve Largent, I was also watching Bruce Willis, Will Smith, Christian Slater, Bill Murray, thinking, 'That looks fun.' But I also knew that you've got to learn that stuff. You have to learn presence, learn to be comfortable in front of the camera. And maybe behind the camera, directing or producing or writing. You've got to put some thought into it and you've got to practice, just like sports. You've got to get out there and rehearse, have confidence and master your craft."
ON HIS "BATMAN VS. SUPERMAN" CAMEO: "A good friend and business partner of mine, Mustafa Saied, did an internship with (director) Zack Snyder on the set of "Man of Steel" back in 2011, and eventually he got to the point where he could sit down with Zack and hang out, and my name came up. So he found out that Zack was born in Green Bay, and was at the Ice Bowl when he was a kid, and he told him, 'One of my real good friends is Ahman Green,' and I got a phone call right away -- 'Ahman, we've got to get you on set to hang out and meet Zack.' So I was on set in Vancouver in 2011, 2012, and I got a chance to meet Zack, Harry Lennix, Henry Cavill, Chris Meloni, Amy Adams. Then we stayed in contact for a couple years, and finally I got the phone call from Zack's assistant saying, 'Ahman, we want to get your flight itinerary set up to be in Detroit to shoot your scenes for Batman vs. Superman.' And as a fanboy, I just lost it. I didn't know what to do. I'd put it out there years ago, in 2005, when I remember doing an interview with a radio station and saying, 'I just want to be a fly on the wall in a Batman film,' and basically, my moment came true. That was when "Batman Begins" had been released by Christopher Nolan, with Christian Bale as Batman, and now nine years later, and I'm getting my wish. So I was in the prison scene on the ultimate edition on DVD, in a shank exchange with C.T. Fletcher. So that's my role, I'm Inmate Thug No. 2."