Aggies Nation rallies around sick fan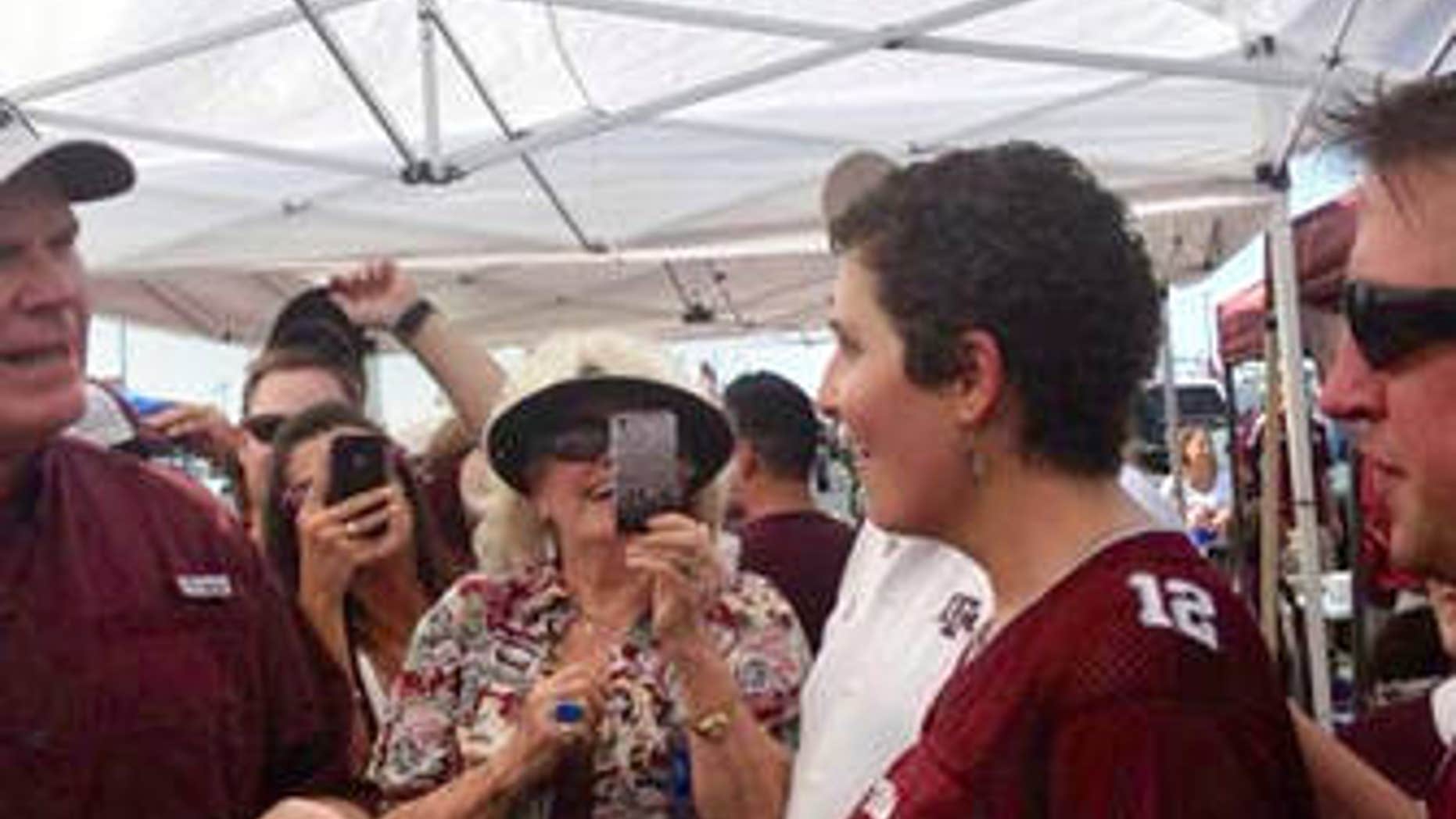 Sometime after the shock wore off and the tears dried and the band stopped playing and the scoreboard went dark Saturday evening in College Station, Texas, Shannon Underwood found meaning in all the heartbreak.
Her beloved Texas A&M Aggies had come up just a play or two short of beating No. 1 Alabama in one of the biggest games ever played at Kyle Field. They had started with a 14-0 lead, then fallen way behind, and nobody comes back against Alabama, a Crimson Tide that just never stops coming, never stops beating on you until you yearn for the sorry relief of defeat.
But the Aggies came back -- almost. In the end, they were reduced to praying for a miracle. The onsides kick, a last-second touchdown ... something to extend the game a few more minutes ... to keep hope alive.
And in all that, Underwood saw herself.
"They never gave up," she said. "I'm at the point where I was thinking about that, like maybe this is it, this is done, what's the point?"
Underwood has been battling Hodgkin's lymphoma for the past three years. When she was diagnosed, her doctors told her that, yeah, you've got cancer, but if you have to get cancer, this is the one you want. Compared to the others, it's easily treatable. You take the big punch from the chemo and radiation and your hair falls out and you're going to miss a lot of work. But most likely you eventually get to walk out of the hospital healthy and free to live the rest of your life -- to pursue your career, to have babies, to drink cheap beer at football tailgates and kiss your husband.
For Shannon, though, every six months there seemed to be more bad news. Every time she surfed one wave of the cancer, here would come another, and then another after that. So a few months ago she quit her job as a high school French teacher in Dallas. She didn't think it was fair to the kids to have substitute teachers all the time and, besides, it was getting to the point where Shannon realized it was time to start living every day as if tomorrow might not come. Her husband, Clay, used the term "bucket list," and one of the items on it was being part of the atmosphere the day Texas A&M played Alabama.
"That's probably the last game she'll get to go to," Clay Underwood said.
All Shannon wanted to was be in College Station for the big game. Tickets were out of the question. Even if you could find anybody selling them, you were looking at around $500 apiece, and the Underwoods already were up against it financially on account of the medical bills. Shannon was fine with that. A member of the Texas A&M class of 2001, she had noticed that tailgating had come a long way at Texas A&M since she was in school, and it really got a boost when A&M joined the SEC last year. On gamedays now there are acres and acres of Aggies numbering in the tens and hundreds of thousands all packed into a mystifying little depot on the Brazos River.
The Aggies have more weird little traditions than even their campus hosts can explain. Their mascot is a living dog named Reveille, and it attends class. The Aggies always are wooping and howdying at intervals that don't make sense if you didn't go to school there. They all wear class rings, and Shannon's ring was the icebreaker when she first met Clay. They both were picking up takeout on Christmas Eve nine years ago when he spotted it and struck up a conversation. They talked on the phone five hours that night.
Biggest of all, though, is "The 12th Man." It began as an actual person called from the stands to help out the football team, but it is now more of an idea, a cultural philosophy. It is a verbal totem that, to an Aggie, says it all.
"From the outside in, you can't understand it," Clay says. "And from the inside out, you can't explain it."
The Underwoods and Clay's best friend, Scott Harris, had been talking about going to the Alabama game since last year. After Shannon's health took a bad turn, they batted around the idea of just having a little watch party at home in Dallas, but Shannon didn't want to hear anything about that.
"Some of the best years of my life were in college," Shannon said. "It's nostalgic to go. It was important to be there."
So with as much discretion as possible, Harris made a post on a Texas A&M message board soliciting a spot for the Underwoods to hang out on Saturday. He couldn't send her to Paris, he said, but maybe he could do this. Maybe somebody would invite them to a tailgate or something.
Well, Randy Taylor doesn't know Harris or the Underwoods, but he spotted Harris' post on a ticket forum and got an idea. Forget a tailgate -- he wanted to get these people into the game. So he got the thread going and started a PayPal account where people could chip in to help.
Tickets would be about $1,000, and he figured he'd get a few hundred bucks and just pay for the rest himself.
"But immediately after I posted something, Aggies started posting on there they'd like to contribute to any tickets bought," he said. "There's that moment where you're like, I can be a Good Samaritan and just buy a couple tickets, and it would have ended right there and nobody would know about this. In retrospect, that would have been pretty selfish. The greater good happened in allowing others to participate."
It took all of 40 minutes to raise the ticket money, and Taylor told everyone to stop donating. But they would not stop. Many of the messages were punctuated with a little acronym, "BTHOC," which stands for "beat the hell out of cancer." That's another Aggie thing; they're always beating the hell out of something or another. Within 24 hours, and without any media publicity, there was more than $9,000 sitting in that account. Somebody donated parking passes right next to the stadium. A clothing store threw in a shopping spree. A local photographer volunteered to shoot photos. An artist was going to make an illustration for the Underwoods' home. A restaurant threw in dinner. A car service volunteered a limo. End-of-life planners volunteered their services pro bono.
"I can tell them to stop until I'm blue in the face," Taylor said Friday. "They're not going to stop."
Friday night, an oblivious Shannon went to a football game at the high school where she had taught. She woke up Saturday morning knowing only that she would be tailgaiting in College Station that day.
She was a little thrown by how great the parking pass was, but didn't suspect anything was up. All of the fundraising activity had been done on message boards and Twitter, neither of which Shannon uses. Clay didn't know the full story, either.
When Shannon got to the tailgate, people were gathered up and making a big deal out of an Aggie who had just adopted a Haitian boy. When they called Shannon over she thought it was because they needed someone who could speak French to him.
And that's when Taylor handed her an envelope containing two tickets to the game, sideline passes and a check for more than $6,000.
"The guy's an angel," Clay said.
She soon learned this was a gift from all over, from strangers. Aggies, mostly, but also some Longhorns, some from Virginia Tech, even Korea. Even after the game, the gift kept getting bigger. As of Wednesday afternoon, the pot had grown to more than $15,000. Anybody interested in helping can visit Shannon's EverRibbon page.
"They didn't know anything else other than this girl is an Aggie and she's going through a tough time," Shannon said. "That's all these people knew, or needed to know."
People say college football is a religion. Some even joke that the Aggies are a cult. Harris doesn't mind.
"It reminds me of the book of Acts," Harris said. "The Bible talks about a community that would come together and take care of their own. They shared, they would sell stuff and bring food to one another. That's basically what we did. There are lots of Aggie jokes out there. People can call us a cult, whatever they want. But what we are is a strong family unit no matter what."
The extra money is being given on a "do what you want with it" basis, but it's going straight to medical bills, which is a stack that continues to grow. Wednesday afternoon, Shannon got some test results back and, as she expected, the news was not good. It appears the cancer cells are becoming more resistant to treatment. A couple more chemo treatments will buy her some time. Wednesday morning she faxed her medical records to the M.D. Anderson cancer hospital in Houston, thinking maybe a new set of eyes would see a new solution, but Shannon has accepted that there may not be much else modern medicine can do for her.
"I don't think the options that are left are very viable to give me any hope for a cure," she said.
Shannon admits the fight started to trickle out of her after a bone marrow transplant from her sister failed. Friends have come along to help check off some of those bucket list items. There has been a trip to Paris, and one up the Pacific Coast Highway. Things like that. Whatever time she has left, she is going to use to soak it all in.
So she was sitting there at the game and, boy, the Tide was rolling in. A 14-0 Texas A&M lead turned into a 42-21 Alabama lead by the middle of the third quarter.
"Alabama started to roll over them," Shannon said.
People around her were thinking one more touchdown and it was time to beat the traffic. Shannon stayed, though, and she watched, and the Aggies came back. They made a game of it.
In the end, they didn't get their miracle. But to Shannon Underwood, that wasn't the point.
"It made me think, you know, I need to keep going and keep fighting," she said. "Whether I beat it or not, it's really about having all these people in my corner. I have to keep going. I have to say I fought to the very end."