After stopping 12-game ACC skid, NC State looks ahead to strong finish, chase for bowl bid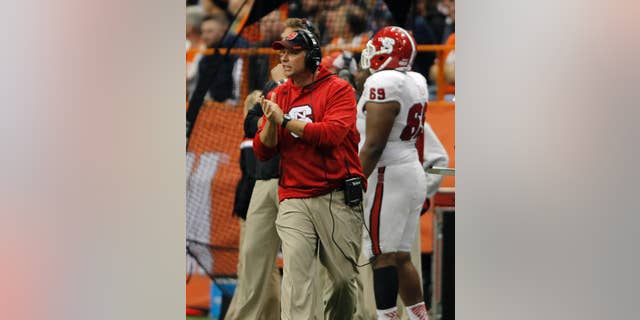 RALEIGH, N.C. – North Carolina State's long losing streak in Atlantic Coast Conference play is over. So too is a tough five-game midseason stretch that threatened to push the Wolfpack into a repeat of last year's struggles.
Now, heading into Saturday's home game against Georgia Tech, N.C. State is a win away from bowl eligibility after a road victory that relieved the pressure on everyone in the program.
"There's no doubt that when you win everything feels better," coach Dave Doeren said Monday.
"The fact it was a road win is something that gains momentum for the future of the program. The fact that it was a win period and gets you one step closer to bowl eligibility, I think that carrot gets closer to their nose now that they've been chasing."
The 24-17 weekend win at Syracuse ended a 12-game league losing streak for the Wolfpack (5-4, 1-4 ACC), all coming under the second-year coach. Last year's 0-8 league mark was the program's first winless ACC season since 1959, then N.C. State lost its first four league games this year.
But N.C. State halted the skid, keyed by a game-changing 82-yard interception return for a touchdown by redshirt freshman defensive end Pharoah McKever in the third quarter.
It was the program's first league win since beating Boston College in November 2012 under former coach Tom O'Brien.
Offensive lineman Rob Crisp said the win was "definitely a weight lifted off (the coaches') shoulders as well as ours."
"In terms of a confidence builder, it always helps," Crisp said. "Wins always carry over to the next game and unfortunately so do losses."
It certainly helps restore some momentum that looked lost amid that tough midseason stretch.
N.C. State started 4-0 against an easy nonconference schedule to build some confidence, then gave top-ranked Florida State fits — the Wolfpack led 24-7 in that one — before falling 56-41 on Sept. 27.
But the frustration had built ever since. N.C. State lost 41-0 at Clemson the following week, followed with a 30-14 home loss to Boston College then lost 30-18 at Louisville.
Unlike last year, which ended with eight straight losses, N.C. State managed to reverse course and has plenty to play for in the final three weeks.
"I would say last year it was just more of a downward slope," defensive end Art Norman said. "A lot of guys I felt maybe didn't believe as much as this team. This is a completely different team."
___
Follow Aaron Beard on Twitter at http://www.twitter.com/aaronbeardap