After roller-coaster offseason, WR James Jones now in familiar place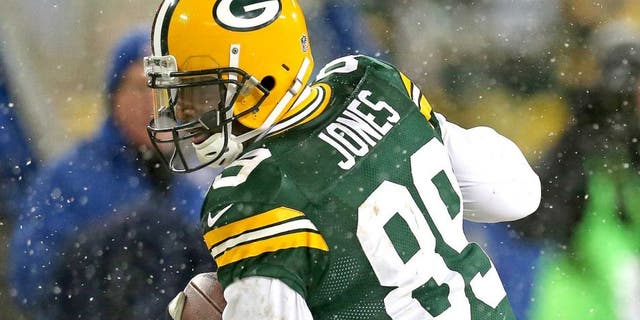 The Green Bay Packers' usually steady ship took a sharp turn into some rough waters when Jordy Nelson, the team's leading receiver, suffered a season-ending knee injury in the second week of the preseason. The stormy clouds of tough luck did not part right away over the Packers, as Nelson's next man up Randall Cobb sprained his shoulder a week later.
For Green Bay's offense (the wide receiver corps, in particular), the first ray of hope penetrated an otherwise ominous sky over the weekend, when NFL Network's Ian Rapoport reported James Jones' reunion with the Packers.
Jones, 31, was cut by the New York Giants on Saturday, after signing with the team just before training camp. In May, he was released by the Oakland Raiders, the team he spent a 3-win season with last year. He was "extremely surprised" by the Raiders' decision to cut him and had been making a strong case for a spot on the Giants' 53-man roster, according to ESPN's Kieran Darcy.
Jones has traveled an unpredictable path since the spring, and yet now he finds himself in a very familiar position: back in Green Bay, with the Packers in search of a pass-catching savior.
"It's been like my life, man," Jones told Weston Hodkiewicz of Press-Gazette Media before meeting with the Packers. "A lot of ups and downs. A lot of good and a lot of bad. That's life, man. You have to run with it sometimes and take the punches that are given and keep on going. I'm here. Hopefully we can get something done and I'll be playing football again."
In 2012, with Nelson nursing a bum hamstring, Jones stepped up and led the entire NFL in receiving touchdowns (14). A year later, Cobb broke his leg and Jones delivered a career-high yardage mark with 817.
Jones, 31, can still get the job done. He is coming off a 73-catch campaign with the Raiders (career high). With Nelson out and Cobb hurting, Jones must rediscover some of his old magic upon his return to the Packers.
(h/t @RapSheet, PackersNews.com)