After record setting heat in '12, this year's Boston Marathon due for good running weather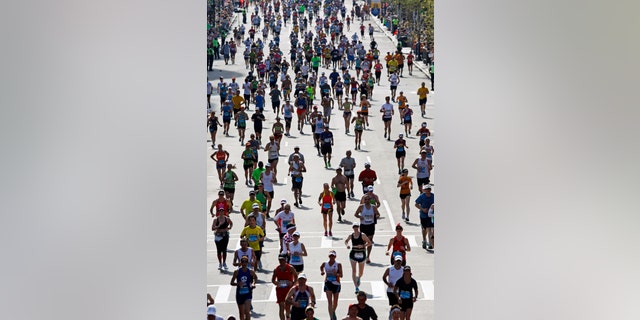 BOSTON – The heat was unprecedented and so was the offer: Any of the 27,000 runners in last year's Boston Marathon could skip the race and automatically qualify for the 2013 edition instead.
About 2,300 people took race organizers up on the deal.
Smart move.
By re-starting their training and postponing their plans for a year, they are expected to be greeted with temperatures in the mid-50s on Monday when the 117th Boston Marathon reaches Copley Square.
Perfect running weather — good news not just for the runners but for organizers coming off a year in which the record-setting heat sent record numbers of runners for medical attention.
"We got a bye," race director Dave McGillivray said this week. "And that's good, because we need this year to regroup."
A year after perfect weather helped pace Geoffrey Mutai to the fastest marathon in history, forecasts for the 2012 race climbed toward 90 degrees and Boston Athletic Association encouraged any inexperienced or ill runners to stay home. For those that decided to brave sweltering pavement that reached triple digits, extra water and doctors were available.
Winner Wesley Korir cramped up in the final mile but moved back into first place when those ahead of him faded even faster. His heat-slowed time of 2 hours, 12 minutes, 40 seconds was almost 10 minutes slower than Mutai's 2:03:02.
Sharon Cherop completed the Kenyan sweep, outkicking Jemima Jelagat Sumgong to win by 2 seconds in 2:31:50. The women's winner was decided by a sprint down Boylston Street for the fifth consecutive year — all of them decided by 3 seconds or less.
Both defending champions are back, leading a field that includes not just one American contender but two — both on the women's side: Olympic bronze medalist Shalane Flanagan, of nearby Marblehead, and her training partner, Kara Goucher, a two-time Top 5 finisher here.
"I was a little girl, just north of here, and dreamed of running this race. It's surreal," said Flanagan, who finished second in the New York City Marathon in 2010 and finished 10th at the London Olympics. "I expect a hard run. I expect to die a thousand deaths. I don't know what to expect."
No U.S. runner has won the race since Lisa Larsen-Weidenbach took the women's title in 1985; the last American man to win was Greg Meyer in 1983. Jason Hartmann, who was fourth last year, is the top American contender on the men's side after Olympians Meb Keflezighi and Ryan Hall withdrew because of injuries.
"This needs to happen," Goucher said. "We want an American to win, period."
Korir, a Louisville alum, can continue a remarkable year for the Cardinals. After he won last year, Louisville followed that up with a victory in the Sugar Bowl and the men's basketball national championship while losing in the finals of the women's NCAA tournament.
Korir, who graduated in 2008, said he worked on the maintenance crew in the basketball team's dorm and knew Peyton Siva. He said watched the men's championship game against Michigan and drew inspiration from the Cardinals' late comeback.
"The way they are patient, the way they wait to kill the competition until the end of race, it's very educational," Korir said. "The winner is not the one that starts fastest. (That is) definitely my strategy."
Not long after the last of the sweaty and the sickened crossed the Back Bay finish line last year, B.A.A. officials gathered as always to discuss what they'd learned and how they can improve the next race. McGillivray said the keys were streamlining the ways they could ramp up the services in case of extreme heat: More water, more doctors, more buses to remove the ill or injured from the course.
That might come in handy someday.
Not this year.
"It's good that we don't have to implement it," McGillivray said after reciting the latest "wet bulb globe" forecast, which takes into account not just the temperature but also the humidity that can make it feel even hotter.
But not all the potential problems are weather-related. Last Monday, a week before the race, there was a water main break on the course near the start in Hopkinton and another near the finish in Boston.
"We spent 12 months planning for a 100-degree day because it could happen," McGillivray said. "You're planning for a weather event, and then something like this happens."
___
Follow Jimmy Golen on Twitter at http://www.twitter.com/jgolen