After Near-Death Experience, Orlando Antigua Lives for Kentucky Basketball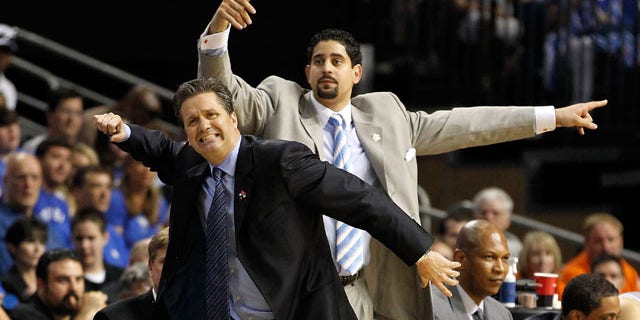 Orlando Antigua sat down on a recent night to dissect tape of a Kentucky Wildcats' game.
It's any young coach's dream to be working and learning alongside John Calipari.
But for Antigua, the Kentucky assistant coach who was born in the Dominican Republic and reared in the Bronx, the job of a lifetime almost never happened – because he was shot in the head on Halloween night, 1988.
Barely a sophomore at St. Raymond's High School, the 14-year-old Antigua was an innocent bystander when the shots rang out just blocks away from his apartment. Like any youngster who hoped of one day playing professionally, Antigua feared he would never step on the court again.
After the initial horror faded, doctors assured him that he would run up and down the hardwood floor.
"It was an experience that obviously changed my life's path," Antigua told Fox News Latino with a smile while the Wildcats were in New York to play Kansas.
"I think that I was very fortunate that aside from being in the hospital for a week, I wasn't out for that long. I was able to keep playing basketball."
The life-altering experience motivated Antigua. Two weeks later he suited up and ran, passed and scored for his high school team. As a senior, he became a McDonald's All- American, was named Parade All-American second-team honors, and a earned a scholarship to the University of Pittsburgh, where he had an outstanding four-year career.
He did most of that with a .22-caliber bullet lodged in his head. It was eventually removed six years after the shooting following headaches and bleeding from the ear, ailments he wrongly linked to swimming in the Caribbean waters of Puerto Rico, where he spent the summer playing basketball before his last season at Pitt.
Antigua could have played overseas or tried out for some NBA teams after his last season with Pitt but admitted that the offers were not "concrete." Keeping with the promise that he made to his mother of graduating, he stuck around, and earned the 18 credits he needed to earn his degree in social sciences in December 1995.
As he sat around and weighed his options, the world famous Harlem Globetrotters, known for entertaining crowds with their unique style of basketball, came calling.
He admitted he never dreamed of being part of a "magical team."
"Are you sure you're looking for the person you want to talk to," Antigua remembered asking the Globetrotters' rep.
They were interested in his basketball skills and acumen, of course. But the team was also intrigued by the inner strength that enabled him to overcome so much in life, including being temporarily homeless.
"The experience was so special that I maintained myself with that organization because, first of all, they were paying well. And to have the opportunity to leave your impression on an organization that's so recognized throughout the world, it was unique," said Antigua, or the "Hurricane," the nickname he was given because of his moves and speed on the court.
"That's why I took advantage of doing it," he added. "A month became two or three months, and when I came to see, I was with the team for six, seven years."
The run with the high-profile Globetrotters gave Antigua the exposure to make the transition to coaching. He got his break with his alma mater Panthers and later joined the coaching staff of the Memphis Tigers.
That's where he joined Calipari. Nowadays, aside from teaching the X's and O's alongside Calipari, Antigua plays the role of a big brother, motivating youngsters on the team who are usually thousands of miles away from their families, whether they need guidance in the classrooms, on the court or off the court.
He clearly uses his second chance at being alive to push them.
"I especially use it because everyone, when you're living, you're going to have obstacles that you have to overcome. Be it a bullet to the head or an ankle injury or a knee injury, people are going to have things, obstacles to overcome," said Antigua. "The motivation and the focus that you put towards it, it's where you have to ability to overcome that obstacle. I understand that's where the power of the human being is."
This past summer, Antigua, who had previously played for the Dominican Republic's national team in 1998, joined Calipari's coaching staff that almost led the Dominicans to a spot in the 2012 London Olympics. Although it's still up in the air on whether Calipari will return, Antigua said they'd like to go back and finish the job they started, hopefully coaching the team in the FIBA World Olympic Qualifying tournament next summer. He believes the excellent showing by the Dominicans, who were one win away from qualifying for the Olympics, has its positives because it will surely help at the grassroots level of the sport in an island nation famously known as a pipeline for Major League Baseball talent.
"I think there's always been talent in our country. When you have them from childhood start seeing those guys have success the way they did in Argentina and in the NBA as well, that can carry them along," he said.
"We saw a generation of kids who saw Jack Michael Martinez, El Pollito (Kelvin Peña) , Al Horford, Charlie (Villanueva), Francisco (Garcia), Edgar (Sosa) who couldn't play at the end, Eulis (Baez)," he added. "Seeing them play at the level, representing the flag at that level and in that type of tournament, it inspires them to play basketball. Now the process is to stay on those young kids, provide them with training camps and show them the fundamentals."
Antigua said it's every "assistant's dream" to run their own program. He's no different, after learning so much Calipari's for the last three seasons. Offers have come and gone, just not the one he is looking for. For now, he wants to be the best assistant he can be, motivate youngsters through his life-changing experience, and live every moment to the fullest.
Adry Torres, who has covered MLB, NFL, NBA and NCAA basketball games and related events, is a regular contributor to Fox News Latino. He can be reached at elpiloto137@gmail.com or follow him on Twitter: @adrytorresnyc.
Follow us on twitter.com/foxnewslatino
Like us at facebook.com/foxnewslatino