After losing opener to Jays, Cards seek doubleheader sweep, series win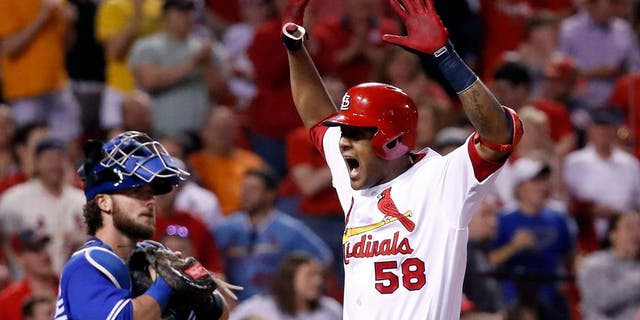 Jose Martinez belted his first major league homer Tuesday night, but the St. Louis Cardinals' rookie was in no mood to celebrate.
Martinez blamed himself for the throwing error by shortstop Aledmys Diaz in the 11th inning that led to the winning run in the Toronto Blue Jays' 6-5 victory at Busch Stadium. An outfielder by trade, Martinez was playing first base after being inserted as part of a double-switch before the seventh inning.
"That ball should have been caught," Martinez said. "I did my best and I'll do my best next time to try and make that play. I think I wasn't ready for that situation, and I should be in the game and take care of that ball, and not let the runner from second base score."
While Martinez may have made an error of omission based on inexperience at the position -- he learned it on the fly in spring training to help earn his first Opening Day roster spot -- it's hard to argue that Martinez hasn't earned more at-bats.
The 28-year old Martinez, who's hitting .375 in 32 at-bats with a homer and four RBIs, figures to start at least one of Thursday's two games in a day-night doubleheader with Toronto after Wednesday night's postponement due to the threat of severe weather.
St. Louis (9-11) called the game around noon Wednesday with two to three inches of rain expected. Well before the scheduled 7:15 p.m. start, heavy thunderstorms pelted downtown, validating the club's decision to bang the game quickly.
Four errors by St. Louis, which has 18 in the first 20 games, were the main storyline Tuesday night. The Cardinals spoke throughout spring training of cleaning up their defense, but among National League teams only Pittsburgh has more errors than St. Louis.
In the first game, the Cardinals will march Carlos Martinez (0-3, 4.76) to the mound opposite Mat Latos (0-0, 7.20).
Martinez has lost his last three starts since firing 7 1/3 scoreless innings on Opening Night against the Chicago Cubs. He has faced Toronto once in his career, retiring the only two batters he faced in a relief role in June 2014.
Latos is 5-6 with a 5.76 ERA in 13 career starts against St. Louis while pitching for San Diego, Cincinnati and Miami. He got a no-decision Friday night in his first start for Toronto at the Los Angeles Angels, allowing four runs in five innings.
In the night game, Adam Wainwright (1-3, 6.27) goes for the Cardinals against rookie righthander Casey Lawrence (0-2, 7.56).
Wainwright snapped a three-game skid Friday night in Milwaukee with a 6-3 win, lasting five innings and fanning nine. He has faced the Blue Jays once in his career, allowing three homers in a 5-0 defeat on June 24, 2010 at Rogers Centre.
The 29-year old Lawrence made his first big-league start Saturday night, falling 5-4 to the Angels as he allowed eight hits and five runs over 6 1/3 innings.
Toronto can win its first series of the season by managing a doubleheader split Thursday.
"It's been a rough start for us, but the guys have showed up every night and played hard," manager John Gibbons said.