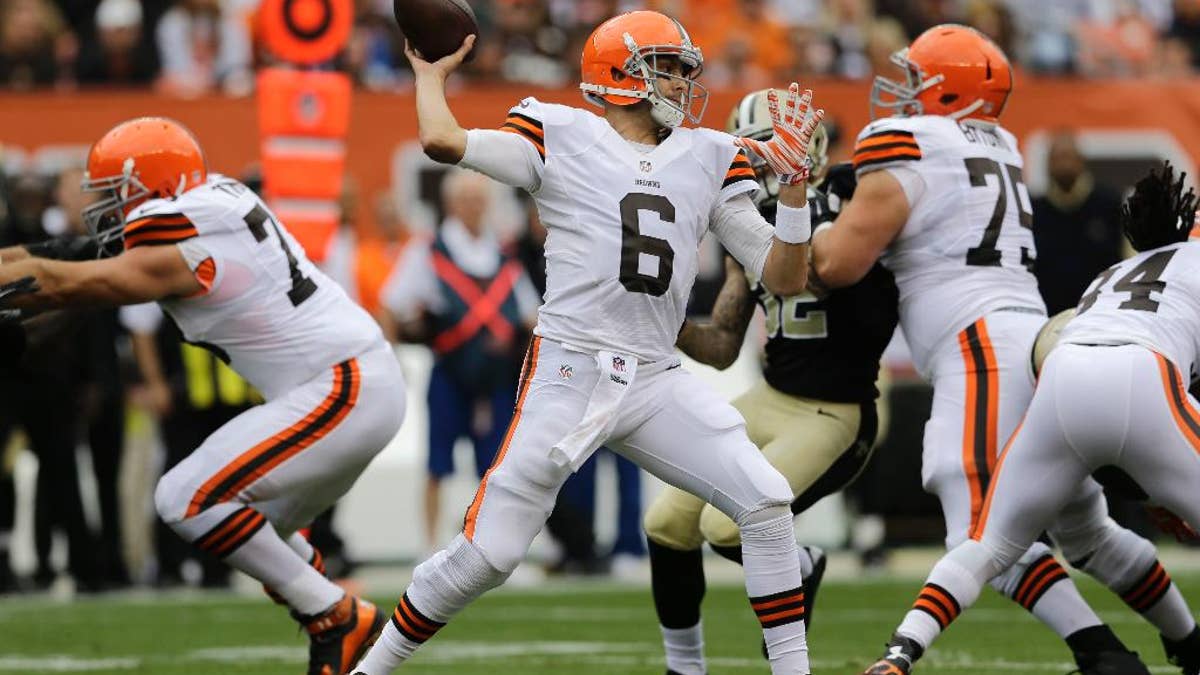 CLEVELAND – The Browns have shown they can fight, rallying last week to make some history. It's time they learned how to throw the first punch.
Or duck.
Last week, they overcame a 25-point deficit and won 29-28 at Tennessee, staging the greatest regular season rally in league history for a road team.
It was a near carbon copy of what they did in Week 1, when the Browns battled back from 24 points down at halftime in Pittsburgh before losing on a last-second field goal.
The never-say-die attitude is admirable, but hardly a formula for success. As they prepare for Sunday's game against the Steelers (3-2), the Browns (2-2) know they can't count on a comeback every week.
"When you play good teams in the NFL, and most teams are, you can't get behind because it's too hard to come back," quarterback Brian Hoyer said. "Especially playing at home this week and with what happened to us last week, we know that we have to start fast."
That, and get a win inside the AFC North.
For all their drama — Cleveland's four games have been decided by eight points, prompting Pro Bowl tackle Joe Thomas to dub he and his teammates "drama queens" — the Browns have shown progress but still need to close the gap in their tough division. They've already lost to Pittsburgh and Baltimore, and are trying to prevent the Steelers from sweeping the series for the 11th time since 1999.
"You have to win games in your division," Hoyer said. "Regardless if it's Pittsburgh, Baltimore, Cincinnati, these are huge games for us."
For the Steelers and quarterback Ben Roethlisberger, the short weekend trips across the Ohio border have been mostly pleasurable for more than a decade.
Big Ben is 18-1 in his career against the Browns, including a 9-1 mark in Cleveland. Roethlisberger has been able to soften the bite of the Dawg Pound, but he's expecting the Browns' rabid fans to be rowdier than ever.
"This is as big of a game probably in Cleveland in a while," he said. "Just because of their record, our record, us coming in there, AFC North and the rivalry that's there. I anticipate it being a hostile environment, maybe like nothing I've ever seen up there before.
"This is not going to be easy for us."
Here are other things to monitor when the Browns and Steelers meet for the second time in five weeks:
HOYER'S HEROICS: Hoyer has been on quite a roll. After throwing the go-ahead touchdown pass with 1:09 left to beat the Titans, Hoyer busted out some dance moves during a wild celebration in Cleveland's locker room. Hoyer, who pulled off his third comeback win in seven career starts, had his No. 6 jersey put on display this week at the Pro Football Hall of Fame.
Not bad for a guy who suffered a career-threatening knee injury just a year ago. His birthday is Monday.
A win over the Steelers would be early icing for his cake.
BROWN VS. HADEN: Steelers wide receiver Antonio Brown is riding an NFL record of 21 straight games with at least five receptions and 50 yards receiving. To extend it, he could face Browns Pro Bowl cornerback Joe Haden, who missed practice this week with a hip injury.
Brown and Haden have developed a friendly rivalry, with Brown getting the upper hand of late. He is averaging five catches for 87 yards in seven career games against the Browns and caught six passes for 116 yards and a score in the opener.
EFENSE (NO D): Through four games, Cleveland's defense has been a disaster. The Browns are giving up yardage in huge chunks and failing to hold up their end as they've been totally outplayed by the team's offense.
The Browns will be challenged by the Steelers' fourth-ranked offense, averaging 6.1 yards per play. Roethlisberger and Brown have combined for eight passing plays of longer than 25 yards — a league best.
RED ZONE WOES: Pittsburgh is averaging only 22.3 points per game because of an inability to reach the end zone at the end of long drives. The Steelers are converting only 43 percent of their drives inside the opponent's 20 into touchdowns and did it just once in four trips during last week's lethargic 17-9 win over Jacksonville.
TOO LEGIT: The Browns have been getting some national attention and not just because rookie quarterback Johnny Manziel wears brown and orange.
Cleveland is on the cusp of being taken seriously as a contender, and a win over the Steelers would legitimize the Browns.
"We know we're close," coach Mike Pettine said.
For Thomas, there's something much more important than gaining a media following.
"I don't really care," he said. "There might be a couple guys in here who do, but not me. I just want to win. I actually think that less recognition is better because then you have a chance to sneak up on people."
___
AP NFL website: www.pro32.ap.org and http://twitter.com/AP_NFL