After early bumps, IMSA eager to race again and put problems in the past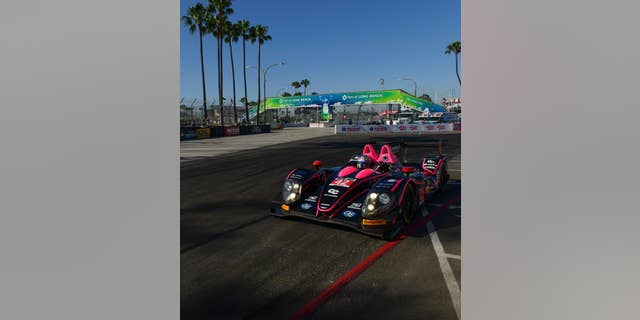 LONG BEACH, Calif. – The future of sports car racing is two races old, and purists don't like it all.
With long yellow flag periods, cautions that seem unwarranted, one race control call that was overturned and another that was simply incorrect, critics have cried that IMSA's new version of North American road racing has been NASCARized and ruined forever.
As if that wasn't bad enough, the seasoned drivers in the TUDOR United SportsCar Championship series have complained the merger between Grand-AM and the American Le Mans Series has created a disproportionate on-track talent level that has created dangerous situations.
IMSA President Scott Atherton argues the varying talent levels are a staple of sports car racing. But, IMSA did suspend Matteo Malucelli and Gaston Kearby for one race each and placed them on probation for an additional race for egregious driving errors last month in the Twelve Hours of Sebring.
Add it all up and TUSC heads into Saturday's race at Long Beach, the third event of the season, in strong need of a controversy-free afternoon. With only the top two classes of the four racing — there will be 21 cars on the track Saturday instead of the season-high 68 that raced in the opener at Daytona — there should be fewer eyebrow-raising on-track incidents.
But race control will be under a spotlight because of mistakes made in the first two races:
At the Rolex 24 of Daytona, the GT Daytona class victory initially went to Flying Lizard Motorsports when IMSA officials penalized Level 5 Motorsports for avoidable contact on the last lap. But hours after the race ended, IMSA reversed its decision and gave the victory to Level 5.
At Sebring, Alex Job Racing was issued a costly avoidable contact penalty while running second. After Job went to the scoring tower to object to the call, it became clear officials had penalized the wrong car. The car that should have been penalized when on to win its class.
"It was an egregious mistake. There's nothing that can be said that makes it OK, nothing to be said that makes it acceptable. It was an inexcusable error that simply cannot happen again," Atherton said of the call against Job.
IMSA in the last month has made modifications to its competition procedures and invested in new technology to assist race control. Now, the car number must be displayed on in-car cameras, the video review equipment has been upgraded to high definition and a third adviser will work alongside the race director to evaluate on-track incidents.
As for the overturned call at Daytona, Atherton insisted that's how the new series wants drivers racing for wins.
"We did not want to have that type of competition frowned upon, or anything but embraced, not only for our fans, but also for our competitors. That is a very easy thing to say but a very difficult thing to officiate," Atherton said. "This is not a free-for-all. We have not simply opened the gate and said 'Do what you will.'
"These cars are incredibly expensive, lives are at risk, it's dangerous. But good, hard, competitive racing that occasionally has two cars occupying the same space at the same time is acceptable."
Jordan Taylor likened it to the 2010 season in NASCAR when series officials loosened the reins on what was acceptable on the track.
"It's a little bit like 'Boys have at it,' in NASCAR, that took a few races to get worked out, to figure out what was acceptable, and that's what is happening here," he said.
But purists don't really care if there's a close finish in sports car racing, and loosening the reins is another example of NASCARizing the series. Before the merger, NASCAR purchased Grand-AM and pushed for the merger with ALMS.
Scott Pruett, a four-time Grand-AM champion, believes the NASCAR comparisons are not a bad thing for the series.
"Whether it's NASCAR-like or not, for these purist fans — and I love them dearly — but NASCAR looks beyond that," Pruett said. "NASCAR looks at the masses and what do they need to do to make the series successful long-term for the teams, for the fans and the sponsors.
"I want good, hard, clean, close racing. That's what we need to embrace. That last-lap, standing on your feet, passing, drama and excitement."
One thing drivers and fans agree on is shorter caution periods, which IMSA says it has addressed with adjustments to its full-course caution procedures. Sebring had more than five hours of racing under yellow during 11 caution periods.
Ricky Taylor said the first caution period at Sebring was so long, he nearly got sick in his car from carbon monoxide fumes because of the lack of fresh air circulating.
"The yellows are way too long," Ricky Taylor said. "It's frustrating to the drivers and has to be unwatchable to the fans."
And they agree they want to see IMSA set stricter licensing guidelines for amateur drivers in the field. IndyCar driver Sebastien Bourdais was outspoken at Daytona, saying there were "terrorists" on the track following his race-winning stint, and Sebring winner Marino Franchitti wondered how some in the field successfully drove from the hotel to the race track.
Atherton insisted all competitors are properly licensed, even though many competitors in the big events are "gentleman racers" fulfilling bucket list dreams.
"You and I cannot buy our way into the Masters, but if we had the proper license and the right budget, we could buy our way into Daytona and Sebring and even Le Mans," Atherton said. "That has been part of the mystique and part of the attraction of sports car racing for a long time. What is different today than before, other than just the sheer numbers, is the inclusion of so many drivers as a result of the merger. We made it possible for everybody in both (series) to still be part of the future."
Pruett and both Taylors want to see IMSA take a longer look at the current licensing.
"My view has always been there needs to be a serious way to track these drivers to make sure they are truly qualified," he said. "When you are starting 20 cars, OK. When you are starting 60 cars at Sebring, a lot of stupid things happen that shouldn't happen. There needs to be a better mechanism in place to qualify drivers."