After breaking his leg in the preseason, Andre Brown ready for 2013 Giants debut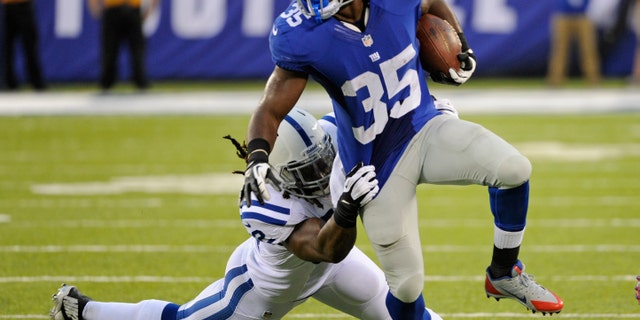 EAST RUTHERFORD, N.J. – Starting isn't an issue for New York Giants running back Andre Brown.
After spending the last 10 weeks on recallable injured reserve with a second broken leg in less than a year, all Brown cares about is playing against the Oakland Raiders on Sunday.
The five-year veteran whose career has been marked by injuries and a nomadic journey from team to team can't hide his excitement. He wants the ball handed to him. He wants to feel the thud of getting popped. He wants to hit someone. He wants to play football again for a team that a couple of weeks ago didn't have a starting halfback because of injuries.
Coming off a bye, the Giants have three potential starters with Brandon Jacobs and Peyton Hillis available.
___
AP NFL website: — www.pro32.ap.org