After Boston College thrashing, No. 18 USC's young defense prepares for Oregon State challenge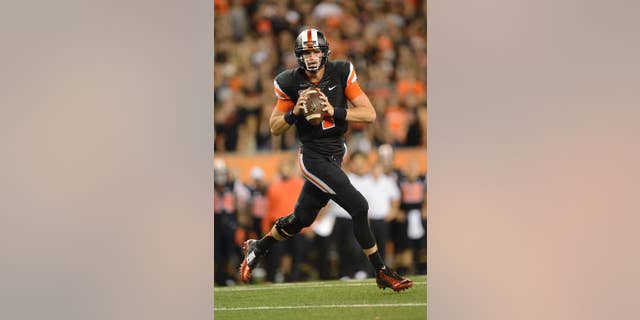 LOS ANGELES – Oregon State quarterback Sean Mannion has rushed for a loss of 533 yards and two touchdowns in his college career.
That's good news for No. 18 Southern California, which allowed Boston College quarterback Tyler Murphy to rush for 191 yards and one touchdown to engineer an upset the last time the Trojans took the field.
But that might be the only good news for USC (2-1) this week, as defensive coordinator Justin Wilcox said the Beavers' pro-style scheme can present similar issues to the Eagles' option offense.
"If you are not disciplined with your eyes and people get overaggressive on the fly (sweep), then they will either screen you or throw it by you," Wilcox said.
And Mannion knows how to do that, as the senior ranks third in the Pac-12 with 11,339 career yards passing, trailing only former USC standouts Matt Barkley and Carson Palmer.
Even though he no longer has Biletnikoff Award-winning receiver Brandin Cooks at his disposal and Oregon State (3-0) has returned to a more balanced approach with Terron Ward and Storm Woods running the ball effectively, Mannion is still averaging 301 yards passing per game this season.
That puts added pressure on young cornerbacks Kevon Seymour, Chris Hawkins and Adoree Jackson against Oregon State. Hawkins, a redshirt freshman, and touted true freshman Jackson were thrust into expanded roles following the bizarre circumstances surrounding team captain Josh Shaw's injury.
Wilcox said the heady Hawkins has improved, but needs to be more consistent, while Jackson is living up to recruiting rankings that rated him as one of the best players in the nation coming out of Gardena (Calif.) Serra, the same high school that produced recent USC stars Robert Woods and Marqise Lee.
"Adoree physically has some unbelievable tools," Wilcox said. "I think he is going to be a great player. The more snaps he takes, the better he gets."
Jackson caught three passes for 36 yards and one touchdown in his college debut against Fresno State, but has seen more time on defense in the weeks that followed and could see his most extensive action to date on that side of the ball on Saturday.
However, Jackson said he still attends meetings with the receivers and spent time Wednesday working with quarterback Cody Kessler after practice.
When asked what position he plays, Jackson said "defensive back. I just come into the offense when I'm needed to fill in."
Jackson said his experience on offense gives him an understanding of how opposing wide receivers will try to get open. That could be helpful against Oregon State, which frequently uses stacked and bunch formations to get receivers open on pick plays, though USC coach Steve Sarkisian and linebacker Su'a Cravens said communication is crucial.
Wilcox has frequently attributed the 452 yards rushing that Boston College rolled up to poor communication, poor eye discipline and poor tackling, but Sarkisian believes the defense has addressed those issues.
"It's a prideful group, and they want to go out and show they're capable of much more, which I believe they are," Sarkisian said. "But we have to do things right to make that happen. It's not always just about effort."
Shaw remains suspended indefinitely following his manufactured tale of heroism, with Sarkisian saying Wednesday that "nothing's changed" about Shaw's status.
Sarkisian was hopeful that linebacker Lamar Dawson could see action soon. Dawson suffered a season-ending knee injury in practice last season and the three-year starter has yet to fully recover. Sarkisian said there have been discussions about using a medical redshirt for Dawson and having him return next year, but a decision would not be made until midseason.