After another double-digit win in regional final, Auriemma says run to Final 4 'really hard'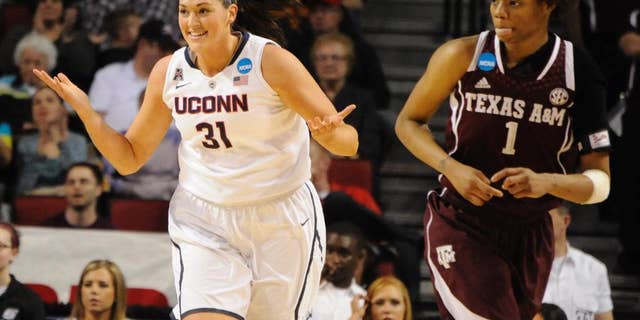 LINCOLN, Neb. – Gene Auriemma doesn't listen to fans, media and opposing coaches who try to tell him that this season's UConn team might be the best he's had.
Auriemma says it's unfair to players, past and present, to make comparisons. He simply believes he has the best starting five players in the country right now.
Not many would argue that. Certainly not Texas A&M.
Connecticut defeated the Aggies 69-54 Monday night to reach the NCAA women's Final Four for the seventh straight year. The Huskies (37-0), winners of 44 straight games, will continue their quest for a record ninth national championship in Nashville. They'll play Stanford or North Carolina on Sunday.
"Especially with kids this age, for them to do what they've done the whole season under some circumstances they've been under, it's remarkable," Auriemma said. "To think we're invincible and nothing bad could happen to us, that's crazy talk. This is really hard."
Texas A&M coach Gary Blair is one of those people who has said the 2013-14 Huskies are the best of Auriemma's 29 teams. Blair said UConn's mental toughness is as impressive as its physical dominance.
"You don't know how hard it is to be the favorite all the time and have everybody come at you, and every time you go on the road it's the best game of the season for that team," Blair said. "Geno is good at making sure they keep their heads straight."
Kaleena Mosqueda-Lewis is one of those players Auriemma mentioned who has overcome a lot to play her best in the postseason. An All-American last season, she missed 12 games because of two elbow injuries and a case of mononucleosis.
She continued her splendid run through the NCAA tournament with 17 points against the Aggies after having 19 points and 13 rebounds in a 70-51 win over BYU on Saturday. She was named the regional's most outstanding player by a unanimous vote.
"I just look at it as a clean slate," Mosqueda-Lewis said. "This tournament was a chance for me to turn things around and not really worry about my injury or my sickness and just be able to help my team as much as I can."
Mosqueda-Lewis' performance on Monday helped mask the struggle of American Athletic Conference player of the year Breanna Stewart, who got into early foul trouble and scored two of her 13 points in the first half.
"If someone had told you we would win this (regional) with the margins that we won by both games, and have Stewie play the way she played and have us shoot the ball the way we shot, you'd say he's crazy," Auriemma said.
Stefanie Dolson, who made her 150th career start to tie the NCAA record, had 14 points and 10 rebounds and blocked a career-high eight shots. Bria Hartley had 14 points and Moriah Jefferson 11.
"It feels amazing and is really unexplainable," Dolson said. "A lot of people around the nation can't say they've made it once to the Final Four or having the opportunity to play for a national championship. For me to have the opportunity four times, and this being my senior year, I'm very excited."
Courtney Walker led A&M (27-9) with 14 points. Courtney Williams had 13 and Jordan Jones 12.
The Aggies had shot 60 percent in their 84-65 win over DePaul on Saturday, their best mark ever in an NCAA tournament game. They hit 28.9 percent the first half against UConn while falling behind 34-23 and finished at 35.3 percent for the game.
The Aggies had won their first three games in the tournament by 15 points or more, but they ran into a UConn club that was just too powerful, whether in transition or in the paint.
The Aggies made their first six shots of the second half to cut into UConn's 11-point halftime lead. Jones hit a pair of 3s, and after she drove to the hoop on Jefferson, A&M was within 40-37.
The Huskies cranked up their transition game, went on a 10-0 spurt and outscored the Aggies 27-12 to build their lead to 18 points in the final 3 minutes. No team has played UConn closer than 11 points this season.
"We competed, and I thought we really had a chance when we cut it to three," Blair said. "A great team just looks you in the face and says, 'Is that all you got?' They came down and got two easy baskets before I could call timeout."